Yes, it's here... the iPhone iPod Touch, Apple's first dedicated digital media player with wireless networking, Mac OS X and the Apple handset's user interface on board.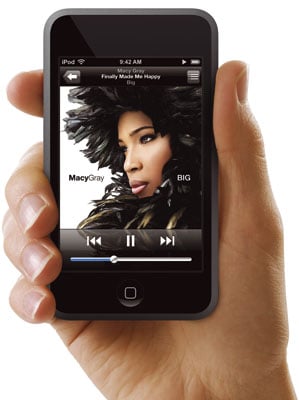 Apple's iPod Touch: iPhone inspired
All this doesn't come cheap, mind: $399 for a model with just 16GB of Flash memory - the same price Apple is now charging for the 8GB iPhone. That said, at least the Touch will spare some would-be iPhone consumers from having to hack their handsets to enable them to be used as 80.11b/g Wi-Fi iPods.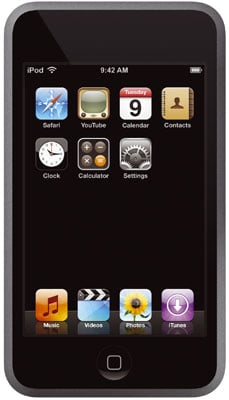 Apple's iPod Touch: wireless surfing, song buying
If $399 is too much, there's an 8GB Touch for $299. Both have a 3.5in, 320 x 480, 163dpi widescreen display, and come in at a mere 8mm thick - less than the phone their design is based upon. Face on, it's 11 x 6.2cm - again smaller than the iPhone. At this stage it's not clear whether the Touch has the same scratch-resistant glass display as the iPhone, or a more standard plastic cover.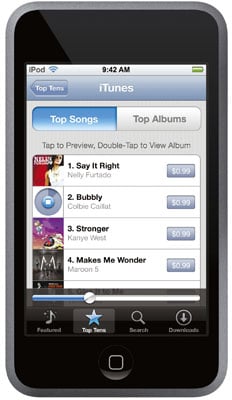 Apple's iPod Touch: list your favourite songs... and share them?
Unlike iPods of yore, the Touch has a version of Apple's Safari browser on board, for surfing and - presumably - running all the web-based iPhone apps out there. It also has the iPhone's YouTube video viewer, though you'll be able to buy plenty of video and audio content from the iTunes Music store, now also accessible direct from the phone via Wi-Fi.
Apple claimed the Touch has a battery life of 22 hours playing songs, falling to five hours if you just watch video. It's no surprise to learn the battery's built in.
The iPod Touch is due to go on sale later this month, around the world - though the iTunes Wi-Fi store may not be.