Asus is due to show off what it calls the "next generation" of its elfin Eee PC Linux-based sub-laptop at the Consumer Electronics Show in Las Vegas next week. The unit is almost certainly going to come with WiMax wireless broadband connectivity.
It may come with an 8.9in screen - larger than the current model's 7in display - too, if a number of Asian news reports from the last few days are to be believed.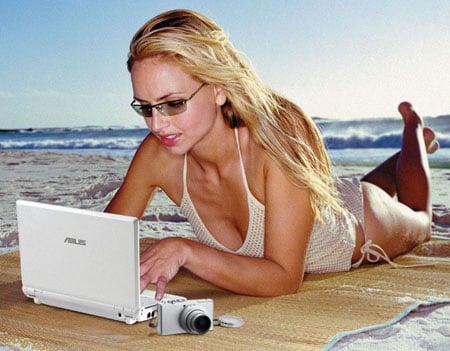 Asus Eee PC and friend: looking forward to next-gen model?
Asus itself said it will show off Eee PC 2.0 as CES - it's already inviting attendees to come to an event it's co-sponsoring with Intel and US carrier Sprint. The meeting's focus is WiMax, and while the wireless technology is likely to dominate, the presentation will also include "next-generation mobile solutions (including the next-generation Eee PC)".
Register Hardware will be at the event to bring you all the details.
Industry moles maintain the machine will also sport a bigger display - one of the key criticisms of the Eee PC. A larger display would allow the unit to run at a higher native resolution than the current 800 x 480 model, which is fine for the unit's specialised Linux-based GUI, but less friendly to Windows or standard Linux user interfaces.
Intriguingly, it's claimed Asus is looking to match the price of the current model with the new one, presumably because it's worked out the slightly higher cost of the screen can be more than balanced by higher Eee sales.
In June 2007, Asus showed a compact 10in Eee PC, the 1001, at the Computex show in Taipei. You can see pics of it at Akihabara News here - but it's clearly a different, larger design to the current Eee PC 701 rather one of today's machines with a 10in LCD in place of the 7in panel.
Related Reviews
• Asus Eee PC

Similar topics