The days when people sat around a campfire singing songs together are long gone, and if Belkin's latest gizmo is anything to go by, listening to music looks set to become even less of a social experience.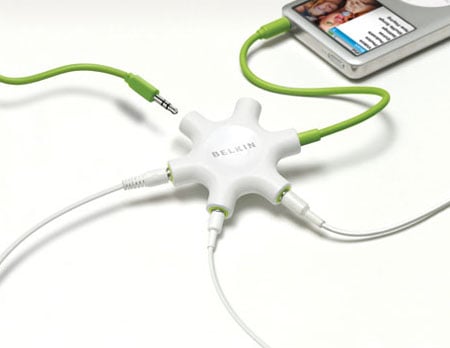 Belkin's RockStar: one music player to five sets of ears
The Belkin RockStar may look like something a Ninja would chuck around after it's been given a makeover by Apple, but it's actually a fancy five-way headphone splitter.
The gizmo has one dedicated input port and five outputs that'll let you and four friends listen to a connected music source.
The 3.5mm input socket can accommodate a cable capable of being fed by almost all audio devices, including all the iPod models, many mobile phones, plenty of portable DVD players and the like - everything, in fact, with a standard headphone port, in other words.
At least one of the headphone sockets - Belkin's vague about the number - can operate as both an input and an output, which means you can play music from two iPods at the same time in some dreadful musical mash-up. Or you can pause one iPod while you play a track on the other, saving you from having to continually swap iPods back and forth to take advantage of multiple music libraries.
We're not sure why five friends would prefer sit around listening to music with their earphones in, all together but sonically isolated, rather than have it play out loud, but maybe that's our age showing.
Whatever you might use it for, Belkin's RockStar is set to arrive next month for around $20 (£10/€15).