Bible II: New Testament protagonist Jesus Christ has thrilled US fans this week by appearing on a slab of Brazilian granite in Dallas Texas.
John Ganster, co-owner of the Verona Marble Company stone company first recognized the divinity of his 1,000-pound chunk of masonry when a customer inquired about purchasing the "Jesus slab."
A picture of the stone, procured from Dallas Morning News footage shows stained granite that indisputably depicts the son of God and divine Messiah of the Christian people, whose coming was prophesied in the Old Testament.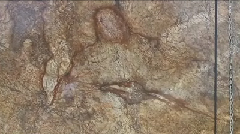 It's the real thing
Or possibly one of those hooded skeleton dudes from Lord of the Rings.
Note the Lamb of God appears to be making some sort of two finger hand gesture — or pointing to what could be an ethereal image of the NetApp logo over his shoulder. An El Reg colleague who suggested he's doing the "shocker" displeases igneous Jesus.
The Jesus slab had previously been at the company's Tulsa, Oklahoma store but was moved to Dallas after builders continually passed up the stone because of its imperfections. Let he without sin cast the first...oh.
According to Christian faith, Jesus promised to return to Earth once more in time for the Second Coming. He has, however, made several "unofficial" returns in the forms of the floor of a garage, a pancake covered in syrup, a cloud floating over Mount Sinai, and others. In many of his visits Jesus provides the owner of these objects a small amount of fame and sometimes extra spending money thanks to the popular online holy artifact trading service, EBay.
Ganster has no plans to sell granite Christ even though he's reportedly had many offers. He said the company plans to donate the stone to a Catholic church in Oklahoma.
"This came to us for a reason," Ganster told Dallas Morning News. "I don't know why, but it did."
Bootnote
Answer: Granite comes to us when a mixture of several different silicate minerals and oxides, mostly consisting of quartz and feldspar, are pushed up to the earth's crust.
Granite may come to a stone company because the material is commonly used as a dimension stone, statues and monuments, and as flooring tiles in buildings and homes. ®