The Jesus Phone iPhone
iPhone 3G: The Jesus Phone is not, as claimed by so many, the savior of all mankind. It's a nice phone, folks, with many nice features, but its flaws make us hungry for the next time it's baked.
But let's start with the good stuff. First off: the move to 3G. For any degree of data transfer, especially full Web browsing, EDGE was a sad joke. Big improvement number two is the App Store. Say what you will about Apple's paternalistic iron grip on the Store's offerings, but tight control keeps malware from digging deep into your iPhone's private life, and the availability of hundreds of vetted third-party apps elevates the iPhone from a device to a platform.
And, god love it, the iPhone is fun to use. Slippin' and a-slidin' across menus and pages, even typing once you learn to trust its surprisingly prescient predictive corrections - all good stuff. And for the many new iPhoneys who had never owned a decent mobile Internet device before, the ability to send and receive email and browse the Web are eye-openers.
The iPhone is also a better business partner now that Apple has added Microsoft Exchange ActiveSync compatibility, Cisco IPSec VPN capabilities, and secure network-services authentication. But let's start the niggling with Exchange: Although syncing email, calendars, and notes works fine, there's no syncing of tasks or notes. Also, you're forced to choose between corporate or personal contacts and calendars - the two can't coexist on the same iPhone.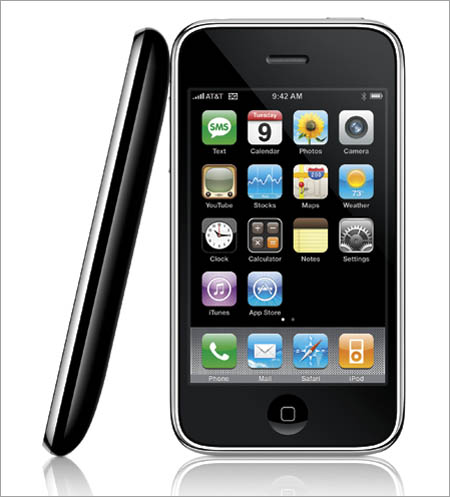 A phone is not divine
Also, you still can't cut and paste anything - a true pain, especially when quoting Web content in emails or moving info from Notes into email messages. There's no voice-activated calling (or, for that matter, voice-activated anything). Flash support is still a no-show. Typing when in Apple-supplied iPhone apps is only available in narrow, finger-squishing portrait mode (download the third-party WriteRoom to help mitigate that problem). And, of course, the iPhone follows Apple's mystifying tendency to make the battery not user-serviceable. Do they want us to merely toss our iPhones, iPods, and MacBook Airs when their batteries wear down? Mebbe so, mebbe so.
And then there's the iPhone's 2-megapixel camera, which had no video mode and a lens with the optical quality of a Jujube. Compare it with such units as the 5-megapixel Sony Ericsson C902 Cyber-shot Phone, which includes a xenon flash, auto focus, face detection, and red-eye correction. The C902 may be overkill (as may be its soon-to-be-released successor, the 8-megapixel C905), but there are many other less-sophisticated camera phones that make the iPhone's camera look like the toy that it is.
Finally, there are features that are popular in, for example, Japan, that many users may not even know are missing, such as RFID technology that lets phones act as credit cards and train tickets, fingerprint scanners for rock-solid security, and broadcast-TV tuners.
The iPhone is a lovely device, to be sure, but a little more usability and a little more hardware innovation would help it live up to its hype.
One thing we can say in the iPhone 3G's defense, though: Don't blame it for call drop-outs and dead zones where you can't find a signal. Blame those on AT&T.
iPhone 3G: B
Similar topics