Iomega slims down, bulks up portable drives
Want encryption? Dump your Mac
---
Macworld Expo Iomega has updated, prettified, and ruggedized its eGo line of portable drives, including some announcements that came this week at Macworld Expo.
Of the Expo announcements, the most fitting for the location was the eGo Helium, a bus-powered USB 2.0 drive. As explained by Charles Hayes, Iomega's regional product manager of business-to-consumer products, the 320GB Helium is "intended to be paired with the MacBook Air."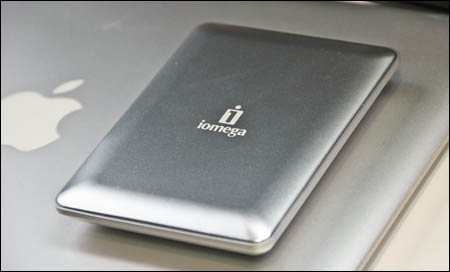 Iomega's Helium allllmost matches Apple's MacBook Air
To our eyes, however, that "pairing" was a tad less than perfect in that the Helium's aluminum case was noticeably brighter than that of the MacBook Air upon which it sat in the Iomega booth. As Hayes said, for many a Mac user, "it's all about the style, the simplicity, the nice lines, the beauty." If so, the Helium is about 95 per cent there.
The Helium is available today at Iomega's online store for $149.99, and according to Hayes will be "at Apple Stores in March."
Less Mac-specific is Iomega's full eGo line. The former highest capacity of these was 320GB. That has now been bumped to 500GB. None should require an AC adapter, although if your PC pumps lower-than-spec power onto its USB bus you may need to spring for the optional $19.95 power brick.
At 1.9- by 8.9- by 13.3-cm (0.75- by 3.5- by 5.25-inches), the eGos aren't tiny, but they have a flask-like shape that makes you want to slip one into your back pocket. Colors include Cherry Red, Ruby Red, Silver, Midnight Blue, Jet Black, Flamingo Pink, and Alpine White. There's also a brown leather-clad version.
Not all capacities and interfaces come in all colors. Check Iomega's online store to see if your needs and desires can be met in Flamingo Pink (hint: if you admire both FireWire and that wading waterfowl, you're S.O.L.).
According to Hayes, internal shock mounting makes them sturdy little units, with "a 51-inch drop spec as opposed to 36 inches for most of our competitors." More rugged are the eGo BlackBelt and eGo Camo, which are each equipped with a stretch-and-snap on rubber belt that, according to Hayes, ensures that they "will actually withstand a seven-foot drop."
If that sounds a bit like marketing-speak, check out a Popular Mechanics video which tested the sturdiness of an Iomega Camo versus a Western Digital My Passport Essential Portable Hard Drive, Iomega (non-ruggedized) eGo Portable Hard Drive, and LaCie Rugged All-Terrain Hard Drive. In their tests, the Iomega Camo came out on top, having "Survived a 15 ft. drop on concrete and the crushing weight of a Chevy Tahoe."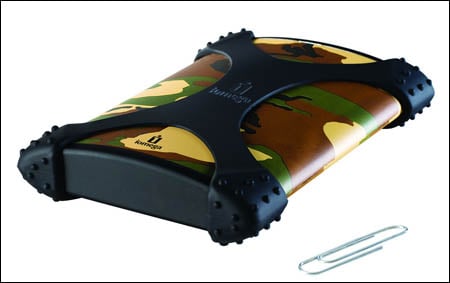 Can your portable drive survive being run over by an SUV?
Hayes says an optional $14.95 Power Grip Band (which comes in black or translucent) can "turn any eGo drive into a BlackBelt." Oddly, the same belt on the BlackBelt and Camo is called the Drop Guard Xtreme. Marketing. Go figure.
Also new at the Expo was the eGo Encrypt. Not hard to figure out what this one's specialty is, eh? Right: encryption - hardware-based AES 128-bit encryption, to be exact. Unfortunately for Mac users, the Encrypt works its encryptive magic only on Windows-based PCs.
Iomega was acquired by global information-services giant EMC last June. Dantz, make of longtime backup stalwart Retrospect became part of EMC in October 2004 and online-backup service Mozy was acquired in September 2007. As should be no surprise, Iomega now bundles on some of its drives - such as the eGo Encrypt and the eGo BlackBelt - a version of Retrospect Express that includes access to the MozyHome service as part of its interface.
Our experience with Mozy's performance, however, has shown that it's well-named: Webster's defines mosey as "to move in a leisurely or aimless manner." At least the first 2GB of Mozy online space is free in Iomega's bundle. ®