So, what's the f**king difference between a Netbook and an ultrathin?
The El Reg flowchart can help
So, you've got $500 bucks burning a hole in your pocket, and you've got your heart set on a computer (and maybe 20 fast food meals). A small, cheap computer might be just the thing for you. Miniature computers are just about the hottest thing to hit the PC market since probably the last time something cheap came out when everyone was broke.
Darn near every computer maker has a very special model of miniature computer nowadays, be it ultra-portable, Netbookⓒ, sub-notebook, handheld, mini-notebook, ultrathin notebook, ULCPC - and the list goes on.
It's sort of confusing at first - but the important thing to remember is that each of these categories are completely different and you should feel extremely bad if you don't know the terminology.
And so, we give you a list of the Most Frequently Asked Miniature Computer Questions. Actually, it's just one question.
Q: What the fuck is the difference between an ultra-portable and an ultra-thin notebook?
The biggest hurdle to the layman is that most of these categories are new and sometimes not well defined. How big can a subnotebook be before it's considered an ultra-portable? Does an optical disk make a Netbookⓒ an ultrathin? Why can't I get a date? These are all very important questions.
Knowing a computer's specs is nice — but that's job #2 next to categorization. Categorization separates us from the animals. And keep in mind: each computer maker insists on coming up with a new term for their machine for every minute change they make.
PC vendors certainly know the category is important. Witness Psion Teklogix and Intel suing each other over the name "netbook." Think about that. Americans may soon be violating copyright law by using netbook as a generic term. We at El Reg may have resisted the name at first. But you know what? We're going to miss the little guy if it goes away.
Do you know one out of five people mislabel their small, cheap computer? No, seriously, if you know that, email me because it's a slow news day and that sounds like a great scoop.
Anyway, if you're still confused about miniature computers we've developed a handy flowchart you can print out and pin to your jacket when you go to the computer store. Careful now, pins are sharp!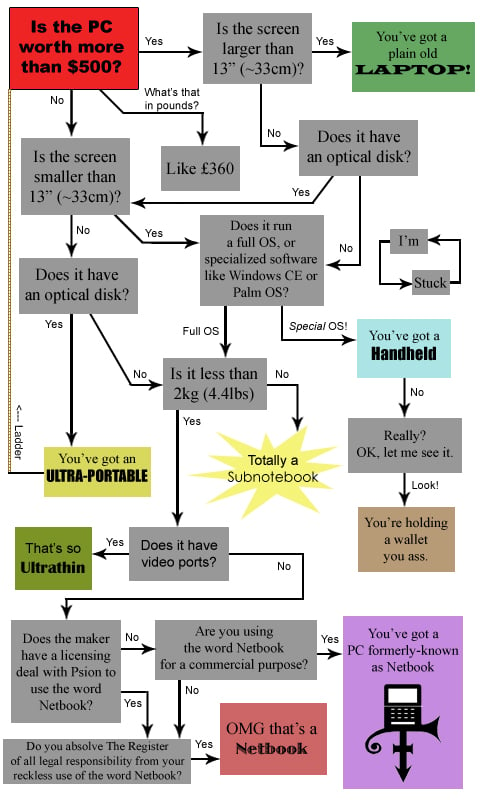 And that settles it. No more arguments. ®