Apple sued over iPhone e-bookiness
Patented brain currents
---
A Swiss company has filed a lawsuit against Apple claiming the iPhone infringes upon its patent for an "Electronic device, preferably an electronic book."
The plaintiff - one Monec Holding Ltd of Berne, Switzerland - was founded in 2000 and describes itself on its website - which might most kindly be described as minimalist - as "a leading innovator for mobile, globally usable communication solutions."
We've never heard of them - and here at The Reg we pride ourselves on our encyclopedic knowledge of mobile, globally usable communication solutions.
Although the patent, which was granted in January of 2002, is "preferably" for an electronic book, said preferred e-book has some interesting features - such as the ability to accept input from "speech control, acoustic signals, optical signals, brain currents, proximity switches, and switches which can be activated mechanically."
Yes, "brain currents." Specifically: "A control by means of brain waves, which are picked up by way of suitable electrodes or sensors from the user's brain."
So, be careful what you think about when holding a Monec e-book - if such a device ever existed. Which, to our knowledge, it hasn't. With or without suitable electrodes.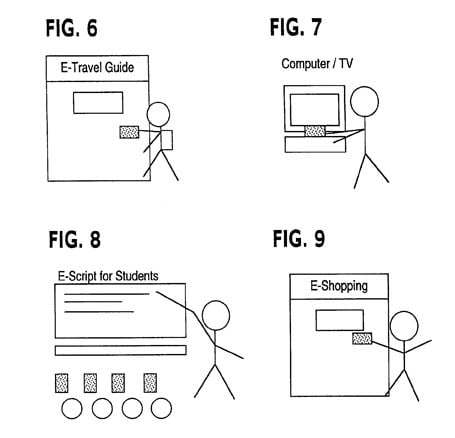 A tech illo (with chic backpack) from the Monec patent - and no, we're not making this up
It should be noted that one of the aspects of the Monec patent is that their device would have a display upon which "approximately one page of a book can be illustrated at normal size." Sounds more like a Kindle than an iPhone - but maybe Amazon is next in line.
Apple, in fact, is second in line. Last April, Monec sued HP in the same US District Court in Virginia for violating the same patent in regard to the HP Compaq 2710p Notebook PC - not for being a e-book per se but for its ability to communicate wirelessly.
Yes, Monec's patent covers "receiving and sending signals by way of a radio network [in a way that] allows the exchange of electronic data, such as for example E-mails, faxes, data from the Internet or the like."
There are two interesting facts that bear mentioning about the HP and Apple lawsuits. First, the Apple complaint is largely a word-for-word cut-and-paste of the HP lawsuit. Second, the HP suit was settled out of court on March 12 of this year (terms of the settlement were not disclosed), and Monec filed its cut-and-paste suit against Apple this Monday.
Now, we're not ones to prejudge a case before we hear all the evidence dispassionately presented in open court - but we guessing that someone is angling for another settlement. ®