Altec Lansing inMotion Max iPhone speaker
Portability and power?
---
Review The world is not exactly short of portable iPod speaker systems, ranging from the merely adequate - such as Logitech's Pure-Fi Anywhere - to the rather good - such as Intempo's InSession. Generally, they sell for about £100, are about the size of a large house brick and produce a sound that while fine for the odd hour or two in a hotel room when you're on the road, isn't really what you'd choose for prolonged, serious - or loud - listening.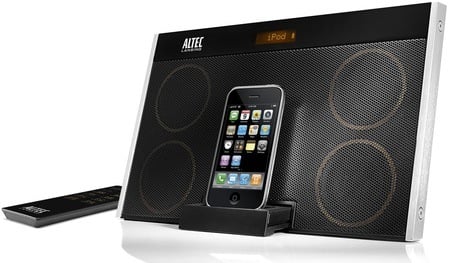 Altec Lansing's inMotion Max: battery powered
Altec Lansing reckon it has spotted a gap in the market for device that while fully portable - and battery powered - is also large enough to hold its own in the sound quality stakes alongside larger, fixed-location systems.
To be honest, the iMT702 inMotion Max's claims to portability are more a product of design than scale. At 310 x 193 x 52mm and weighing in at just under 1.3kg, it's not exactly what you'd call small or light. However, if you push in the spring-loaded front dock, fold away the stand and clip the remote control into its recessed bay at the back, the whole rig should fit into a large suitcase without too many dramas.
Altec has been getting a bit brutalist with its design language of late and the iMT702 is no exception. The exposed bolts on each side are going a bit far, if you ask us, but it's still a rather smart and more importantly very well made device, especially the perforated metal speaker grille, which we suspect will take some serious punishment before it shows any signs of damage. More to the point, it keeps the speakers safe when the unit is packed away for transit.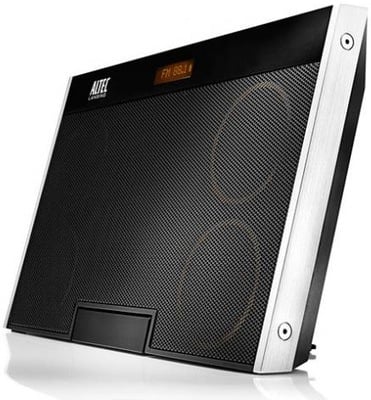 Slide in the dock to make it easier to carry
The iMT702 comes with a very nicely made and easy to use – if, at 30 x 100 x 6mm, rather small - remote control that lets you turn the unit on and off, skip tracks, adjust the volume, fire up the "Expanded Sound Stage" – more on this in a moment - and change the input source. It also allows you to select the four pre-sets you can allocate on the built-in RDS FM radio. Rather than a telescopic radio antenna, Altec supplies a flexible aerial that plugs into the rear of the unit alongside a 3.5mm auxiliary jack.