SanDisk has updated is Sansa Clip music player ahead of Apple's anticipated iPod revamp next week.
Now dubbed the Clip+, the differences appear primarily cosmetic. Still small, the Clip+ sports a phone-style navpad control in place of the rotating wheel its predecessor used.
Once again, it supports Ogg files as well as MP3, WMA, WAV and Flac.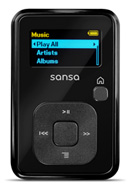 SanDisk's Sansa Clip+ : now with a different control array
The Clip+ has a 1in OLED screen, as before, and packs in an FM radio and a microphone. It'll come in 4GB and 8GB versions, but the player contains a Micro SD card slot that can take SanDisk's SlotRadio and SlotMusic pre-loaded cards as well as vanilla memory cards with your own content.
SanDisk claimed the lithium-ion battery within the Clip+ will be good for up to 15 hours' music playback.
The 4GB models - all available in a variety of colours - will cost $40 (£20/€27) in the US, while the 8GB version will come in at $70 (£34/€48). UK-specific prices have not been disclosed. ®