Two new alternative power sources for digital gadgets such as the iPhone and iPod touch have just surfaced - one powered by the sun and one powered by you (and your bicycle).
Novothink of Oakland, Califoria has announced its new Solar Surge line of cases, one for the iPhone 3G and 3GS and one for the iPod touch. The company claims that its Solar Surge cases are the first solar chargers to be Apple-certified.
Both have soft-touch, non-slip cases - the iPhone version is available in eight solid and metallic colors, and the iPod version in four. Both have solar panels that output 5.5V at 100mAh in full sunlight, pumping juice into 1500mAh 3.7V lithium-polymer batteries that provide 120 per cent of the the Apple handhelds' built-in batteries.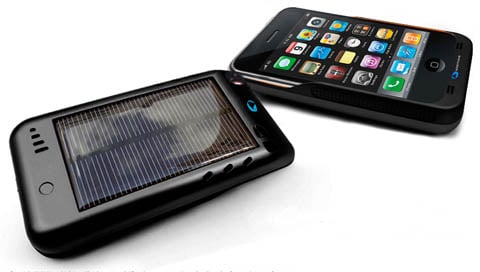 More useful in Dubai than London
According to Novothink, two hours of direct sunlight will provide about 30 minutes of talk time on a 3G network or 60 minutes of talk time on a 2G network. But don't expect to use a Surge on your first-generation iPhone. It's not supported.
The Solar Surge for the iPod touch will be available later this month and the iPhone version in November; both will set you back $69.95 (£42.65).
Standalone solar chargers have, of course, been around for years. Perhaps the best known is the Solio, and then there are others such as the FreeLoader and the Powertraveller SolarMonkey.
Solar cases are harder to come by, but Freeplay's single-panel TuffCharge Solar should be available this quarter - but there's no word yet whether it will be Apple-certified, as is Novothink's Solar Surge line.
Phone manufacturers are also getting into the solar game. Samsung, for example, should release its Solar Crest (aka Solar Guru) soon, and their Blue Earth later this year - both have a built-in solar chargers. LG is working on one, as well.
But since the sun is not always shining, folding-bicycle manufacturer Dahon of Los Angeles, California is introducing a charger that is powered by a more-reliable energy source: your legs.
From Bike Hugger comes word of Dahon's BioLogic FreeCharge, a charger that siphons power from any industry standard dyno hub, pumps it into its battery, then makes it available over USB for your iPhone, iPod, GPS, or similar USB-chargeable device.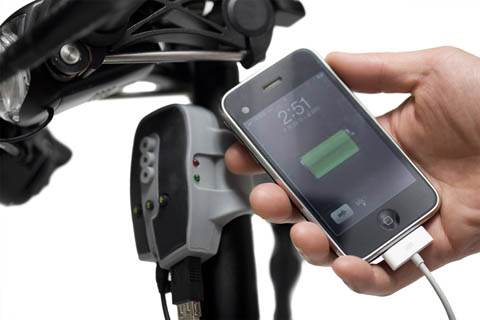 Useful if you need to call ahead to order a pizza after a long ride
An iPhone will take about three hours to receive a full charge, but the FreeCharge can also be used as a supplemental power source, thus allowing your iPhone or standalone GPS to keep you on course longer than if it were running on battery power alone.
The BioLogic FreeCharge is scheduled to appear next March for $99 (£60). Dahon will also include it as standard equipment on two of its bikes, the Ios XL and the Speed TR. ®
Bootnote
Speaking of iPod cases, word comes today from Engadget that cases from Hama showed up at the IFA show in Germany for the fifth-generation iPod nano and third-generation iPod touch, both expected to be announced at an Apple event next Wednesday - and that the cases have openings on their backs to accommodate the oft-rumored addition of cameras.