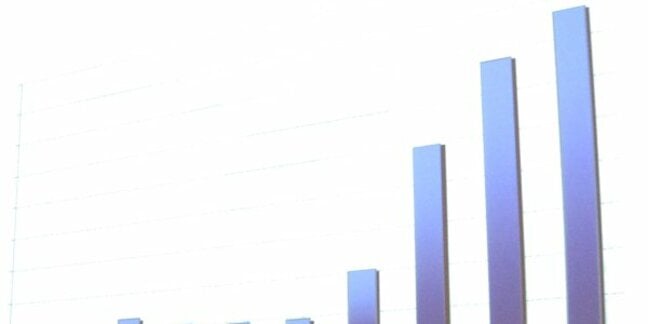 Oracle, the software giant and hardware wannabe, put its first quarter of fiscal 2010 ended August 31 to bed today, and like other software makers, sales of new software licenses continue to be crunched by the economic meltdown and the strengthening US dollar.
But rising software license and product support revenues helped support Q1, allowing Oracle to only show a five per cent revenue decline to just over $5bn and a four per cent rise in net income to $1.12bn.
At constant currency, which is something all IT vendors look at so they can see how they are doing despite the fact that they need to convert sales to the currency where they do their books, overall sales in the first fiscal quarter fell just one per cent, and net income was up 11 per cent.
That's about as good as it gets in this economic meltdown.
New software license sales were down 17 per cent to just over $1bn, but software license updates and product support rose six per cent, to $3.11bn. That fall and rise nearly washed out, with Oracle's overall software sales falling only one per cent to $4.14bn. But services revenues took a 22 per cent dive in the quarter, to $909m, and that knocked down Oracle's global sales for the quarter more than the increase in software update and support.
Oracle's application software business posted $1.37bn in sales, down a smidgen from the year-ago quarter, with new application software license sales down four per cent to $317m, and application update and support fees up one per cent to $1.05bn. At constant currency, new application license sales were down only one per cent, and the overall business was up four per cent.
On the database and middleware side of the Oracle house, revenues were down one per cent to $2.78bn. Within this category, new software license sales were off 22 per cent, to $711m, while update and support sales rose nine per cent to $2.06bn.
On a conference call with Wall Street analysts, Safra Catz, Oracle's co-president, cheekily said the declines that other ERP software players are seeing was one reason why Oracle's database sales were off in the quarter. If their customers don't buy ERP suites, they don't buy Oracle databases, and both Catz and her peer, co-president Charles Phillips, pointed the finger squarely at SAP's 39 per cent decline in application sales in EMEA and 50 per cent decline in North America. He said that Oracle was "definitely taking market share" from SAP in North America.
By geography, Oracle had $2.67bn in sales in the Americas, essentially flat. Sales in EMEA dropped 10.3 per cent to $1.62bn, and revenues in Asia-Pacific slid 9 per cent to $741m. Oracle finished the quarter with 84,639 employees, down 923 from the end of the fourth quarter of fiscal 2009.
In the prior twelve months, according to Jeff Epstein, Oracle's chief financial officer, the company generated $8.5bn in free cash flow. After selling $4.5bn in bonds earlier this year, Oracle is sitting on $16.1bn in cash and equivalents and $4.47bn in marketable securities, the former of which will cover the $7.4bn it needs to acquire Sun Microsystems.
(Net of Sun's cash and debts, Oracle should pay somewhere around $5bn if it doesn't take too long to close the deal and Sun has to start burning the cash it has in the bank to stay alive.) Oracle does, however, have $13.7bn in its own debts, so really, it is sitting on a heap that is closer to $2.4bn in net cash. The Sun deal will not increase Oracle's debts - that is what the money was borrowed for - but it should give Oracle over $2bn more in actual cash. That's another reason why Oracle is keen on getting this deal done quickly.
For the fiscal second quarter, Oracle expects earnings of between 26 cents and 27 cents per share, up from 25 cents per share in the second quarter of fiscal 2009. Overall sales should be anywhere from flat to up 3 per cent. "We remain very upbeat," Catz said in the call. However, because companies are being stingy about ERP, CRM, and SCM projects, even with some optimism about the economy recovering, new software license sales in Q2 2010 are expected to be flat to down 10 per cent.
As for the impending Sun acquisition, Catz said that guidance that did not include any effects from the Sun deal. She said Oracle had no idea when it would close since that was really under the control of the antitrust authorities in the European Union at this point. But she added that Oracle was "still quite confident" that Sun would increase operating earnings by $1.5bn in the first full year after the deal closes. Later in the call Catz said that Oracle and Sun continue to do integration planning, which it is allowed to do.
The two companies are also allowed to do joint product announcements, as they have in the past and as the Exadata V2 database machine launch yesterday demonstrated.
"We get a better sense of Sun's business, and we continue to do what we can at arm's length," Catz said. ®
Sponsored: Webcast: Ransomware has gone nuclear