This article is more than 1 year old
Freecom Secure
Swipe your card, gain access to your external HDD
You don't buy a drive like if your primary concern is performance, but it's good to know the Hard Drive Secure is reasonably zippy, given the inline encryption and decryption that's taking place as data is going back and forth.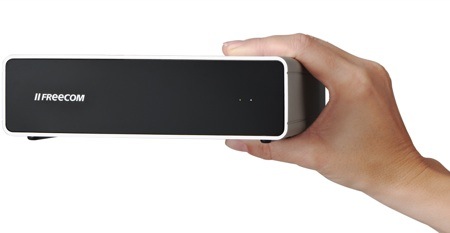 A bit of a handful?
And, as you can see from the charts on the previous page, Freecom's Windows-only Turbo USB software boots the CrystalDiskMark scores, especially the sequential read but also, to a lesser extent, sequential write and 512KB random read and write. The 4KB random read and write speeds so no improvement at all, but unless you're going to be using the Secure as, say, a Photoshop scratch disk, that's probably not going to trouble you too much.
Incidentally, there are no real-world file-transfer results for Turbo USB because these tests were conducted on a MacBook Air.
We should point out that this is a very quiet drive. There's no fan inside - or, of there is, it's a near-silent one. The alumunium enclosure keeps in the noise, and you can really only hear the drive if you put your ear up close. Aluminium's also a good heat conductor so you shouldn't need to worry that the absence of a fan is going to cause the disk to overheat.
Freecom's basic Secure comes in at £25 more than the equivalent Freecom XS, a 3.5in drive with the same capacity and single USB port but minus the security component. But the premium you pay for the smartcard system rises to £45 when you get up to the 1.5TB models - a cheeky increase given there's no difference between the two capacities' security technology. You also have to ask yourself whether you can't get the same degree of perceived data security from free, open source and fully cross-platform software like TrueCrypt.
Verdict
Freecom's Secure is a stylish if large external hard drive. While you can ignore the smartcard security system if you wish, that's really why you'd consider buying this drive over any of the many other 3.5in external HDDs out there. The smartcard system works, sure, but is it any better than, say, fingerprint protection? It's certainly easier to use - fingerprint sensors often don't read prints correctly on the first swipe. But it's limited to two cards that can be lost, unlike your fingers. ®
More External HDD Reviews...

LaCie
Starck

LG
XD4

Samsung
Story
Station

Freecom Secure
Not a bad performer, and the smartcard security works. But there are equally secure yet free software alternatives.
Price:
£100 (500GB), £130 (1TB), £170 (1.5TB), £260 (2TB) RRP