This article is more than 1 year old
Mandybill: All the Commons drama
Web-blocking goes through, orphan works fails
Live TV and internet coverage allowed the nation to feel grubby as the Mandybill was shunted through the House of Commons late last night. The government's replacement for Clause 18 – a catch-all illiberal web-blocking measure that few in the music business ever expected to survive – was approved, and the photographers cemented a spectacular victory by crushing the orphan works clause.
But not before a bit of spirited resistance – or token posturing – take your pick, for it in truth it was a bit of both, to the copyright infringement clauses by Tom Watson, Austin Mitchell, Bill Cash and other backbenchers.
Almost universally the MPs who spoke objected to the bill being rammed through in a sort of procedural speed-dating, at the very death of Parliament. Even stalwart copyright supporters such as John Hemming, a BPI member, and LibDem frontbencher Don Foster condemned the scheduling. Foster said the government's whips could have timetabled a Commons debate three weeks earlier, but had left MPs kicking their heels.
Watson proposed a number of probing amendments - ie ones designed to be withdrawn - before duly withdrawing them all. The first of these, which would have decriminalised online file sharing except for commercial infringers, took almost an hour to debate. While it gave MPs a chance to vent before a sizeable crowd following on Twitter, it exhausted most of the time available.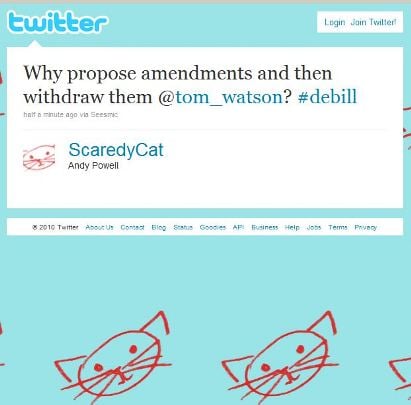 On Twitter, the probing amendments caused some confusion
Foster said that it "was disgraceful a bill of this complexity is given so little time" to be debated, explaining: "That's why so many of us are in such a difficult position. [Watson] has raised important probing amendments."
He regretted the time didn't allow orphan works to be discussed, but then nobody mentioned the ludicrous timetable for radio switchover. Or radio at all. Not once.
The government's promise of a "superaffirmative" procedure in the next Parliament (commencing mid-May) may not have won over any rebels, but perhaps staunched any defections. The procedure means leftover legislation is subject to a further 60 days' scrutiny.
So the Digital Economy Bill was passed by 189 to 47 votes at 11:18pm. The web-blocking provision was the only clause to go to a division, where it was carried 197:40. Clause 43 fell on a voice vote.
Apart from blaming the Labour Party for rotten scheduling, the Conservatives were quiet. Tory spokesman Ed Vaizey mocked the "extraordinary bleating" of the Labour worrywarts, and didn't think much of Watson's amendments, which he said were "scribbled on the back of an envelope at 100 mbits/second.
"It is pathetic for the Labour benches to say that the three hours is nothing to do with them. They are responsible for the lack of scrutiny."
In turn, Watson wasn't impressed with The Honourable Edward Vaizey, and said he could have done some scrutinising of his own.