Running MS Office on cancer
Another popular use for Wine is running Microsoft's Office suite and Wine 1.2 delivers a number of bug fixes specifically targeting Office 2007. In my testing, Office was stable and plenty quick, but – again – OpenOffice covers this ground quite nicely and will even apparently be getting the Microsoft-style "Ribbon" interface in an upcoming update.
If you've been hoping for iTunes to run under Wine 1.2 – to manage an iPhone or iPod Touch for example – I've got bad news for you. I was able to install the latest iTunes (version 9.2), but it never successfully launched. One Ubuntu user claims that 9.0.2 will boot under Wine, though nothing works aside from the streaming radio option.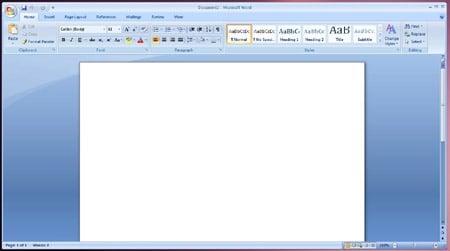 Microsoft's Office stable in Wine
The real appeal of Wine at this point is games. Of Wine's top-ten Platinum rated apps – applications that run without issue - seven are games. Throw in the top ten Gold apps – apps that run fine after some special configuration – and 17 of the top 20 are Wine apps are games.
With that in mind Linux gamers will be happy to hear that the latest version of Wine runs titles like Call of Duty and Counter Strike without issue.
Of course how well games run under Wine will vary widely according to your graphics card and other hardware, but judging by the most recent user reports, many popular Windows titles are perfectly usable under Wine.
While Linux apps have improved over the years and many may not need Wine as much as they used to, for those that do Wine 1.2 is a welcome update. The countless bug fixes and improvements make it even easier to run Windows apps in Linux without the need to pay the dreaded Microsoft tax - something that'll particularly appeal to gamers. ®
Similar topics