This article is more than 1 year old
Garmin Asus Nüvifone M10
Satnav meets smartphone
Review Smartphones and satnav are a pretty good combination, and there are plenty of configurations to choose from. You can use a free service like Google Maps or Nokia's Ovi Maps, or buy an add-on like CoPilot Live. Typically, smartphones often come with at least one option pre-installed, but there is a third way.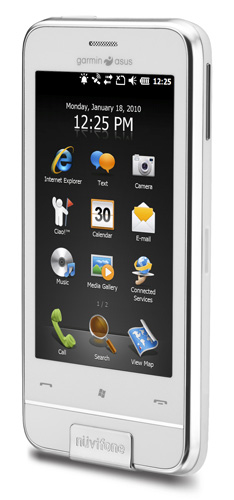 Charting success? Garmin Asus' Nüvifone M10
GPS specialist Garmin has dipped in and out of the smartphone satnav waters in the past with fully integrated devices. Its most recent entry into the sector involves a partnership with Asus, which has resulted in two new devices. The Garmin Asus Nüvifone M10, on review here, is a Windows Mobile handset. The other, the A10, runs on Android but isn't available yet.
In both cases, satnav is integrated deep into the heart of the device, rather than being an extra like any other application. The integration occurs in both software and hardware. On the latter front the Garmin Asus Nüvifone M10 comes with a very good car mount that is small and solid and includes the usual vehicle charger.
The M10 comes with maps covering most of Europe pre-installed and, while some countries have only major roads mapped, most offer detailed coverage. Like other satnav makers, the map data is in the hands of a third party, in this case Navteq. The maps reside on 4GB of on-board flash storage, leaving just over 1GB free to boost the 512MB of ROM. There is a MicroSD card slot too, though it is awkwardly located under the battery.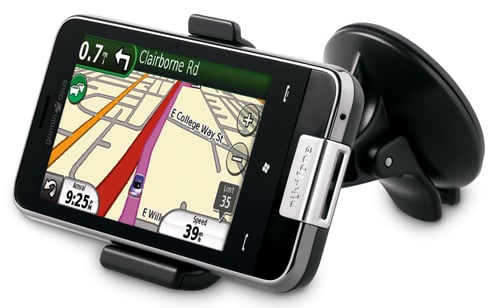 Comes kitted with in-car trimmings
The smartphone specs are solid: HSDPA, Wi-Fi, Bluetooth and a 5Mp camera are all here, as is automatic screen rotation and, of course, GPS. In use, the M10 handles much like a standard smartphone. At 116mm x 58mm x 14.3mm and 150g it is slightly chunky but not intolerably large.