This article is more than 1 year old
Nuclear reaction: what's next in energy science?
What to expect now even tree-huggers love nukes
"You might want 300MWe now, and another 300MW in five years' time. If you've got the infrastructure you can modularise it."
Costs
Nuclear is unchallenged when it comes to producing baseload electricity, but controversy rages over the true long-term cost. Grimes acknowledges that CO2 reduction targets help enormously.
"I don't see nuclear as something that produces all your electricity, it's a mix, and getting the balance right is crucial," he says. "It's going to be different for different countries; I imagine we'd want to build a lot of wind turbines, but we're going to need nuclear as a our baseload capacity - and a lot of it."
Disposal costs will fall by the time the Generation IV reactors come online.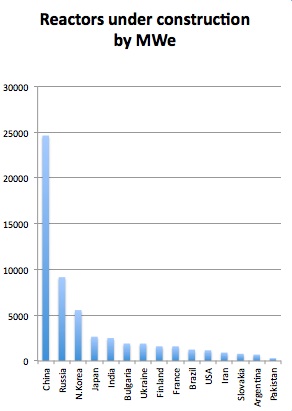 Nuclear energy facilities under construction, measured by output (MW). China has 24 underway and Russia 11.
Source: IAEA
"My personal opinion is that a complete recycle, with complete reuse of uranium and plutonium and the minor actinides is feasible, but it leaves us with a 300-year problem."
Which is a major improvement, of course. Currently some of the isotopes in the actinides have a half-life of 100,000 years. We should remember where we left stuff 300 years ago, particularly if it's radioactive.
Readers regular raised a couple of fascinating developments in nuclear research. What did Grimes make of them?
One is using the thorium fuel cycle. Thorium is four times more abundant than uranium. India is the biggest backer of thorium reactors. Grimes took a visit a year ago to have a look [pdf].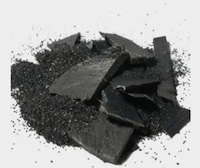 Thorium: There's a lot of it about
Thorium, however, doesn't have a fissile isotope, which complicates things a bit: you have to breed the artificial isotope uranium-233. Grimes points to another advantage.
"Because you've started with a lower mass isotope number, you produce less of the higher atomic number isotopes - plutonium and minor actinides - than you do with a uranium-plutonium cycle.".
"It will happen, because India wants it to be so. It has a lot of thorium, and not a lot of uranium. So that will allow us to get over the technology barrier; it could well be that it's a sensible and viable option."
Another factor comes from a quite unlikely source. Norway has one of the highest per-capita GDPs in the world, thanks to North Sea oil, and has reaped the benefits of hydroelectric power. But Norway discovered it may also be sitting on one of the world's largest supplies of thorium oxide.