NASA dusts off X15-successor rocket hyperplanes
Mach 8 X34s, mothballed in 2001, to fly at last?
---
NASA has dusted off a pair of prototype hypersonic rocket-planes it has had lying around since the 1990s with a view to getting them flying. The X-34 project was cancelled in 2001 "for both technical and budgetary reasons", but now the mothballed rocket ships are being checked out to see if they are "potentially viable as flight demonstrators".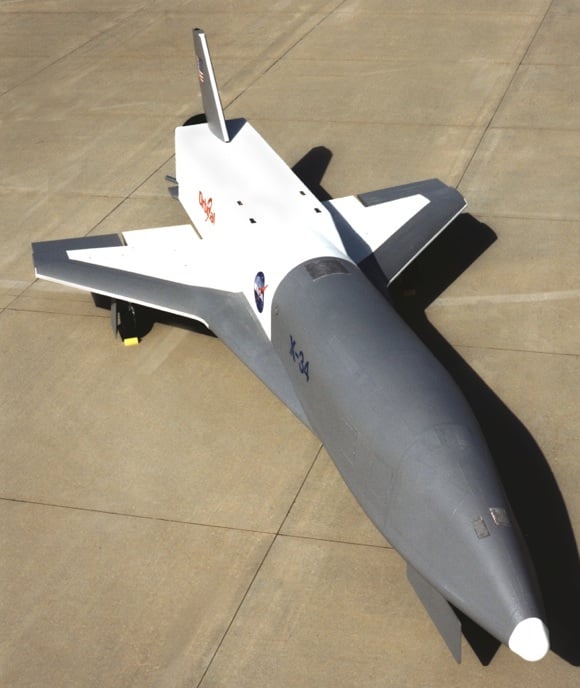 Eat my smoke, X-15
The 60-foot-long X-34, under 1990s plans, was to be a very hot ship indeed - a successor to the famous X-15 rocketplane, which was dropped from a B-52 bomber mothership to reach speeds of Mach 6.7 back in the 1960s. NASA engineers expected the unmanned X-34 to top this handily and achieve Mach 8 after being released from a modified L-1011 jetliner, before coming in to an autonomous runway landing.
In the event, the X-34 project got no further than a couple of early test flights with the rocketplanes mounted under the L-1011 mothership: the prototypes were never released to fly free before the programme was cancelled. Since then, the two X-34s and parts for a third have sat in storage at NASA's Dryden research centre and Edwards airforce base.
Now, however, according to a NASA statement released last week, the X-34s have been moved to the Mojave Air and Space Port and placed in a hangar at the National Test Pilot School. There they will be examined by contractor Orbital Sciences, which originally built them and which operates the L-1011 mothership jet (this is normally used as a reusable first stage for Orbital's Pegasus rocket).
"Orbital will tell us whether these existing vehicles are potentially viable as flight demonstrators," says John Kelly, NASA bigwig.
The idea of the X-34s was and remains that they would be testbed technology-development craft aimed at a reusable orbital launcher that would follow them. The planes were designed from the outset to be cheap and simple to maintain and operate: their specially-developed "Fastrac" rocket engines burn kerosene rather than troublesome cryogenic hydrogen (though still using liquid oxygen as oxidiser) and they incorporate various other low-maintenance, low-cost technologies. The X-34 planned test programme had the goal of achieving costs of $500,000 per flight.
Full specs on the X-34 courtesy of NASA can be read here, and there are more pics here. ®