This article is more than 1 year old
ARM's Intel challenger set for 2012 release
Tablets, smartphones, PCs, servers...
ARM Holdings' high-performance, low-power Cortex-A15 processor design will appear in products in late 2012 or early 2013, when it will begin to muscle in on territory long dominated by Intel's x86 architecture.
"With our upcoming Cortex-A15 processor, we are definitely moving closer to the day when your smartphone or tablet can act as a primary computing device," ARM mobile marketing exec James Bruce told TG Daily.
"You can simply hook the smartphone or tablet up to an external monitor to watch a movie and presentation, while linking a mouse and keyboard via Bluetooth to work on an Office doc," he said. Such a usage model is what Motorola is offering with its Atrix dockable smartphone.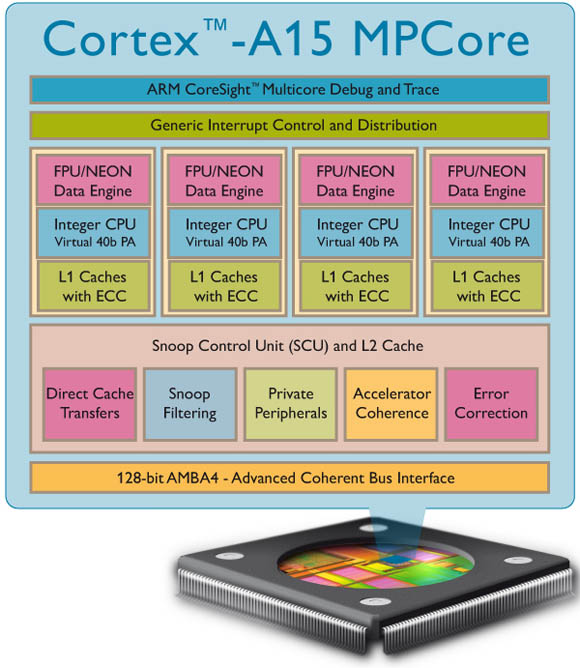 Shown here in a four-core version, the ARM Cortex-A15 can be scaled up to as many as 16 cores
During a conference call on Tuesday reporting Intel's financial results for the first quarter of 2011, president and CEO Paul Otellini discussed his company's efforts to crack the tablet and smartphone markets, focusing on their upcoming Medfield low-power processor, which he said will have power requirements "right smack dab in the envelope that you want it to be."
That may well be the case – if all Otellini was referring to is today's power/performance ratios. ARM's Cortex-A15, however, will up the ante with an out-of-order superscalar pipeline, 40-bit memory-addressing capabilities, floating-point and media-handling improvements, and a clock speed of up to 2.5GHz, all at power requirements said to be comparable to the company's current Cortex-A9 design.
The Cortex-A9 is the design upon which such top-end smartphone and tablet chips as Apple's A5, Nvidia's Tegra 2, and Samsung's Exynos 4210 are based.
The Cortex-A15 design, meanwhile, has already been licensed by Texas Instruments and Nvidia, and Nvidia announced at this year's Consumer Electronic Show that it was working on a new ARM-based processor code-named "Project Denver" that's targeted at PCs and servers.
In support of the ARM-in-PC effort was Microsoft's announcement at CES that it would port its next version of Windows to ARM-based processors.
Although Intel, with upper lip firmly stiff, has said that it's not worried about ARM-based processors invading its long-held territory, ARM's Bruce also said that "You will see the A15 deployed in a number of platforms, including smartphones, tablets, portable computing devices, printers and even servers."
That reference to servers, comes with a caveat. Earlier this year, ARM CEO Warren East told the IDG New Service, referring to the ARM-for-servers future: "What I've been telling people is that the project's on track, but please don't expect ARM servers to move the dial before 2014. There's a whole software ecosystem that exists around servers, it's not in place for ARM yet and that has to be developed as well."
Still, Intel is caught between a rock and a hard place. Although its Medfield processor is sure to be a measurable improvement over its current Oak Trail tablet platform, the Cortex-A15 clearly shows that ARM is not standing still.
On the high end – whether you identify the server market as either the rock or the hard place – Bruce told TG Daily: "The entire industry is now realizing you can't just keep on sucking power, whether from an environmentally green or purely financial perspective. And that is why we are working with partners to integrate the A15 into server designs."
Although Bruce said that x86 servers aren't going away anytime soon, "For the most part, the 32-bit A15 (with 40-bit physical addressing) is more than sufficient for standard tasks such as serving web-pages or content hosting."
Intel, however, isn't standing still, either. By 2014 it should be well into its 22-nanometer era, and preparing for its move to 14nm – two developments that will further enhance its chips' power/performance ratios. ®