This article is more than 1 year old
'Indestructible' rootkit enslaves 4.5m PCs in 3 months
Latest TDSS embraces p2p, antivirus
One of the world's stealthiest pieces of malware infected more than 4.5 million PCs in just three months, making it possible for its authors to force keyloggers, adware, and other malicious programs on the compromised machines at any time.
The TDSS rootkit burst on the scene in 2008 and quickly earned the begrudging respect of security experts for its long list of highly advanced features. It is virtually undetectable by antivirus software, and its use of low-level instructions makes it extremely hard for researchers to conduct reconnaissance on it. A built-in encryption scheme prevents network monitoring tools from intercepting communications sent between control servers and infected machines.
The latest TDL-4 version of the rootkit, which is used as a persistent backdoor to install other types of malware, infected 4.52 million machines in the first three months of this year, according to a detailed technical analysis published Wednesday by antivirus firm Kaspersky Lab. Almost a third of the compromised machines were located in the United States. With successful attacks on US-based PCs fetching premium fees, those behind the infections likely earned $250,000 on that demographic alone.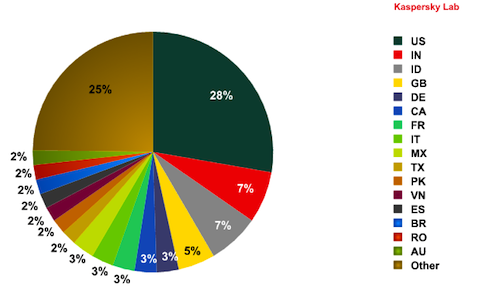 TDL-4 infections by country. Graphic supplied by Kaspersky Lab
TDL-4 is endowed with an array of improvements over TDL-3 and previous versions of the rootkit, which is also known as Alureon or just TDL. As previously reported, it is now able to infect 64-bit versions of Windows by bypassing the OS's kernel mode code signing policy, which was designed to allow drivers to be installed only when they have been digitally signed by a trusted source. Its ability to create ad-hoc DHCP servers on networks also gives the latest version new propagation powers.
"The changes in TDL-4 affected practically all components of the malware and its activity on the web to some extent or other," the Kaspersky researchers wrote in their report. "The owners of TDL are essentially trying to create an 'indestructible' botnet that is protected against attacks, competitors, and antivirus companies."
Additional changes include a new antivirus feature that rids TDSS-infected machines of 20 rival malware titles, including ZeuS, Gbot, and Optima. It also blacklists the addresses of command and control servers used by these competing programs to prevent them from working properly.
Like the Popureb trojan and the Torpig botnet (aka Sinowal and Anserin), it also infects the master boot record of a compromised PC's hard drive, ensuring that malware is running even before Windows is loaded.
'Indestructible,' but not perfect
TDL-4 also adds the ability to communicate over the Kad peer-to-peer network. In the event there is a takedown of the 60 or more command and control servers used to maintain the TDSS botnet (hard but not impossible given the recent eradications of the Rustock and Coreflood botnets), the infected TDSS machines can receive instructions using a custom built Kad client.
Despite TDL-4's resilience, it still has bugs, as is the case with any complex piece of software. The Kaspersky researchers were able to analyze the number of TDL-4 infections by exploiting a flaw that exposed three MySQL databases located in Moldova, Lithuania, and the US. Together, the databases revealed the 4.52 million infections.
Remarkably, the data revealed no Russian users, most likely because the affiliate programs that pay from $20 to $200 for every 1,000 TDSS infections don't provide rewards for installations on computers based in Russia. ®