VMware reaches deeper into iPad, Android, desktop
Nice View while watching the Horizon
---
VMworld VMware is updating its View virtual desktop infrastructure stack as well as expanding coverage for its "Project Horizon" application manager – including a rebranding of its virtualization layer for Android mobile devices, formerly known as MVP and now known as Horizon Mobile.
It appears that VMware wants to own virtualization not only in the data center and on public clouds, but also on the desktop – or, more precisely, on your workspace, no matter where you are or what device you're using to access your applications. That's the word from the VMworld conference in Las Vegas, where the first day was about data center virtualization and clouds, and the second about end-user computing in the post-PC era.
Most of us in the business world still work from PCs most of the time, so the rollout of the View 5 desktop virtualization software is probably the most immediately useful update coming out of VMware for end user devices this week. VMware View 5.0, which runs back in the data center and which provides server slices running desktop software to thin clients, PCs, tablets, and other devices, is now based on the latest ESXi 5.0 hypervisor, announced in July and shipping last week. The ESXi 5.0 hypervisor is wrapped by a set of management tools called vSphere and administered by a management console called vCenter.
VMware director of product marketing Raj Mallempati tells El Reg that the VMware recommends that its customers buy the top-end vSphere 5.0 Enterprise Plus edition to host View 5.0. This is a more efficient and scalable hypervisor than its ESX 4.X predecessors, which is why companies will want to use it.
In fact, when you buy View 5.0, this edition of the hypervisor as well as vCenter and vShield endpoint security are bundled into the stack, and – perhaps more importantly – are bundled at a discounted price compared to list price for the components when purchased independently.
Perplexing pricing
View 5.0, like its predecessors, is priced based on the number of concurrent users, not the number of server processor sockets and memory used, so it's a bit hard to guess how much of a discount this might be, seeing as how it depends on the scenario and the concurrency rations that companies have for their end users.
At $250 per concurrent user for the top-end license, the View 5.0 bundle provides the vSphere, vCenter, and vShield components at somewhere between 40 to 60 per cent off list price, says Mallempati. If you have vSphere Standard or Enterprise Edition licenses, you can use these to deploy View.
As for concurrency ratios, at a typical educational institution it is usually around 1:4 or 1:5, and at companies it will depend on whether they have shift work or not, where it can be 1:2 or 1:3. For businesses that operate during normal business hours and have a lot of knowledge workers, you usually have 7 or 8 concurrent users for every 10 absolute number of end users - someone is out on vacation, or sick, or traveling at any given time.
The scalability enhancements in View 5.0 that come by virtue of the move to vSphere 5.0 as the underpinning of the VDI stack can help to reduce costs, and View 5 has LAN and WAN network optimizations that Mallempati says can cut the bandwidth needs of View clients by as much as 75 per cent compared to View 4.6, the prior release of VMware's VDI stack. View 5.0 also sports 3D graphics support for Windows 7 Aero, the 3D features in Office 2010, and any other applications that do 3D graphics based on DirectX or OpenCL methods.
View can act as a translation layer between the pinching and poking of an iPad and the mousing and typing of a Windows desktop. View 4.6 started supporting the iPad back in March, and with View 5.0 it now supports the iPad 2.
With this support, The iPad and iPad 2 can now be used to encrypt View sessions as well. View 5.0 can now provide a similar translation of Windows-based applications for Android devices, including the Samsung Galaxy tablet, the Cisco Systems Cius, and a number of LG devices.
Don't hold your breath for webOS client support, though. "We're glad we didn't put much investment into that project," quips Noah Wasmer, senior director of advanced development at VMware.
View 5.0 will be available in "the coming weeks" and comes in two editions. View 5.0 Enterprise Edition has the vSphere 5 distribution tuned for streaming desktops, vCenter Server 5.0, and View Manager 5.0, which is the console for managing the desktop images; it costs $150 per concurrent user. View 5.0 Premier Edition tosses in View Client with Local Mode, which allows VDI instances to continue running even when the LAN or WAN link is broken, plus ThinkApp 4.6 application streaming, View Composer (a VM management tool that makes use of the linked clone features of vSphere to create gold images that are easier to manage and take up less storage), and vShield endpoint protection. It costs $250 per concurrent user.
The horizontal view
View is how VMware virtualizes the PC and makes it accessible on a variety of clients. Horizon is how VMware smashes the whole concept of a desktop and replaces it with a familiar application catalog metaphor.
Horizon Application Manager is a SaaS-style application that provides centralized authentication and self-service access to SaaS-style applications. When it launched in May, only 15 different cloudy apps could be pushed out through the service, but Wasmer says it grew to 29 in a few months, and now to 45 as VMworld is cooking in Las Vegas.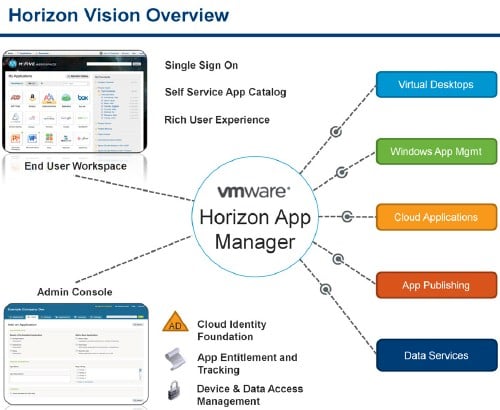 VMware's Project Horizon App Manager: One ring to bind them all
The big news with the latest Horizon App Manager update – there are no release numbers since it's a service – is that metadata about Windows-based applications can be pushed out to Horizon so access to them can be controlled through Horizon without actually moving the data, applications, or password access to those applications. VMware is supporting its own ThinApp application packager, with Microsoft's App-V coming next and Citrix Systems' XenApp coming in 2012.
Horizon App Manager has also been tweaked so it can push applications to Android phones that are running the Horizon Mobile virtualization hypervisor, and can control access to these applications. Wasmer says that the phone virtualization layer has "almost zero performance or battery hit" and would allow for end users to segment their phones into personal and corporate partitions.
The Android hypervisor runs as a type 2 or hosted hypervisor, so the business stuff would run as an Android guest on your Android phone. LG, Samsung, and a number of other mobile phone makers are expected to support the Horizon Mobile hypervisor in the months ahead. ®