This article is more than 1 year old
Neil Armstrong: US space program 'embarrassing'
Aging moonmen denounce NASA, Obama
The first and last men to walk upon the moon have testified at a Congressional hearing that NASA is a national disgrace.
The US space program is "embarrassing and unacceptable," said Neil Armstrong, who on July 21, 1969, first set foot on the surface of the earthly companion that, in his testimony, he referred to as Luna.
"Today we are on a path of decay," testified fellow ex-astronaut Eugene Cernan, who said goodbye to Luna on December 14, 1972, bringing the curtain down on the US Apollo program.
Being 81 and 77 years old, repectively, and having achieved much in their careers, Armstrong and Cernan have nothing to prove nor favor to curry – and their comments reflected that freedom.
"Our choices are to lead," Armstrong said, "to try to keep up, or to get out of the way. A lead, however earnestly and expensively won, once lost, is nearly impossible to regain."
"Now is the time to overrule this Administration's pledge to mediocrity," said Cernan.
Armstrong decried NASA's downward spiral. "We will have no American access to, and return from, low Earth orbit and the International Space Station for an unpredictable length of time in the future," he said. "For a country that has invested so much for so long to achieve a leadership position in space exploration and exploitation, this condition is viewed by many as lamentably embarrassing and unacceptable."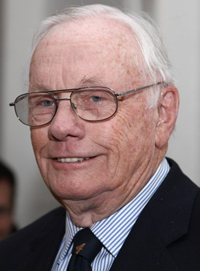 Neil Armstrong
Cernan also lambasted NASA for losing its way. Referring to the "space race" of the 1960s, when the US competed with the then–Soviet Union, he said: "As unimaginable as it seems, we have now come full circle and ceded our leadership role in space back to the same country, albeit with a different name, that spurred our challenge five decades ago."
Cernan was also clear about whom he blamed for what he sees as the current dismal state of affairs, citing "NASA and the present Administration's now obvious agenda to dismantle a space program that has been five decades in the making."
He also characterized NASA's involvement with developing a heavy-lift launch system that could both enable exploration beyond Earth orbit and continue to service the ISS as "deceptive, inadequate, and to date non-productive."
Armstrong was somewhat gentler on NASA, crediting it with "some increased flexibility" in its recent decision to assist ATK in the development of the Liberty rocket, which he said "might engender" another provider of access to low-earth orbit, including trips to the ISS.
Armstrong also acknowledged that the the US space agency was "hobbled by cumbrous limitations," being caught in the crossfire between the Obama administration and Congress – "a fractious process that satisfies neither", as he put it.
Cernan was less forgiving. Referring to 2010 NASA Authorization Act's approval for the development of a heavy-lift system, he said: "Until this past week, NASA had continued to disregard, ignore, and flaunt the law and the mandate of the Congress while continuing to pursue its own agenda of disabling our nation's space program."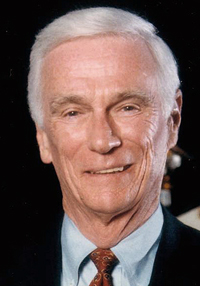 Eugene Cernan
Both men testified that reinvigorating the US space program was of critical importance to the US economy, national security, and sense of purpose. Armstrong, for example, pointed out that the US aerospace industry is the number-one contributor to the country's balance of payments, with a $50bn positive trade balance in 2010.
Without an inspirational space program, Armstrong argued, the US stands to lose its engineering edge. "A substantial current and long range threat is, and will be," he said, "the downward trend in engineering degrees granted in this country and the substantial increase in such graduates in other parts of the world."
Cernan minced fewer words, saying that NASA and private engineers involved in the space program "did not join the team to design windmills or redesign gas pedals, but to live their dreams of once again taking us where no man has gone before."
Armstrong reminded the House committee of Winston Churchill's famous saying that Americans will always do the right thing, but only after they have exhausted all the alternatives. "In space flight," he said, "we are in the process of exhausting alternatives. I am hopeful that, in the near future, we will be doing the right thing."
Cernan cited another maxim: "If we don't know where we are going," he said, "we might end up where we are headed."
And from Cernan and Armstrong's point of view, the US space program is headed down the extraterrestrial crapper. ®