20th Century Fox Home Entertainment Japan is celebrating the latest Star Wars release - the compete saga on Blu-ray Disc - with a funky campaign on Tokyo's train network, turning the handrails on trains into lightsabres.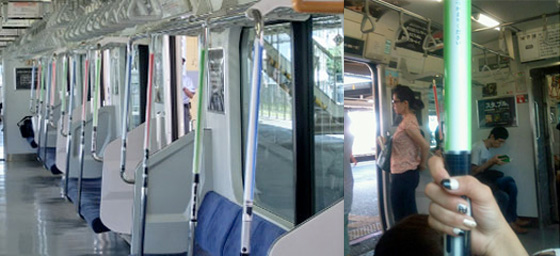 Source: Japan Trends
Over here, the BT Tower was transformed into a giant lightsabre and hordes of stormtroopers littered the streets of London. But Tokyo commuters have been blessed with these glowing handrails instead, JapanTrends reports.
Now every passenger can feel like a Jedi as they scoot off to work. The Force is strong with this salaryman.
While entire trains are often commandeered in advertising campaigns over there, this is apparently the first time hand rails have been used.
Star Wars: The Complete Saga Blu-ray boxset is out now for £60. Read our views on it here. ®