Those who missed out on surround sound with the earliest Freeview HD boxes will be pleased to know that transcoding to AC3 (Dolby Digital) is also mandated by the HbbTV specification.
It's worth noting that it's possible for a single receiver to support both MHEG 5 and HbbTV, as will be the case for the next generation of Freesat boxes, for example.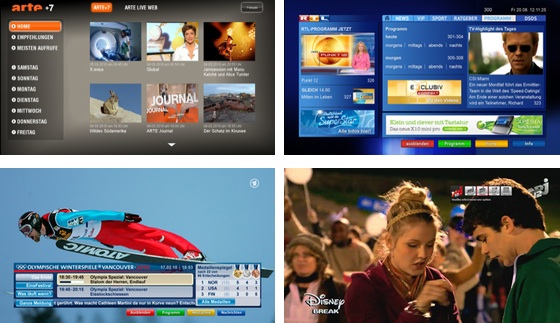 HbbTV services from among the many rolled out on the Continent
So, rather than being revolutionary, HbbTV is a pulling together of existing standards to create a platform designed to be straightforward to implement, and to enable easy development of applications.
Compared to YouView
So, how does HbbTV compare to YouView? YouView is broader in scope, in that it's a complete system with a consistent front end and a centralised EPG. It's intended to be built into branded boxes.
That has caused friction among UK content providers, some of whom feel they, not a consortium, should be free to define the UI that fronts their IPTV services.
As simply a building block, HbbTV makes that possible. There's no central authority co-ordinating all the different things that individual channels do, to enforce a unified experience. It's more like the way that both ITV and the BBC make their catch-up services available through Freesat's red button: they use the same technology, but look different.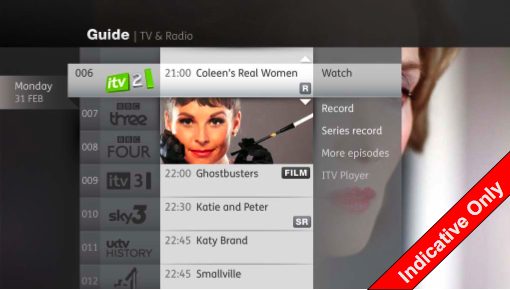 Whatever the final YouView UI looks like, it'll be a consortium-controlled experience
There's another key difference too: HbbTV is already out there and in products you can buy now. Many broadcasters already have HbbTV applications deployed on both satellite and terrestrial services, particularly in Germany, where ARD, ZDF, RTL and even QVC have services, together with Franco-German arts channel Arte.
With other countries in Europe also deploying HbbTV, it's likely to end up costing relatively little to include in sets as a matter of course.
For the UK, with YouView already delayed and initially targeting terrestrial users, using HbbTV means Freesat won't be left behind when it comes to supporting the extra online features that all the major TV platforms will be pushing in their bid to keep viewers in front of the telly. ®