Page ranking
This near-instant download still feels like magic, by the way. Books are in the ePub format which is widely available, though most have DRM to prevent copying. The Kobo store offers a wide choice, with plenty of free titles alongside the new biography of Steve Jobs, for instance.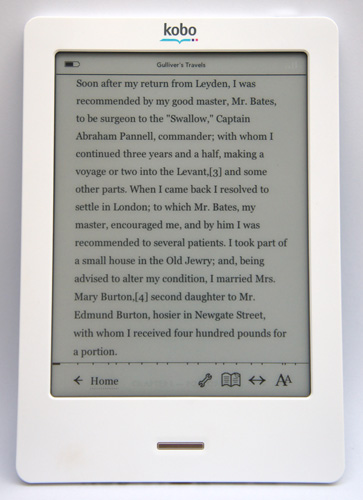 Same display as the Kindle 4 with one big difference – it's a touchscreen
Like the new Kindle, the Kobo has the latest in page-turning software. So instead of the page flashing violently from white to black and back on each turn, it subdues this until every sixth page. Whether you were bothered about this or not is a personal thing – me, I hated the garish flashes.
This new system is better but leaves artefacts. Mostly this just means rough-edged fonts but if you've turned over from a graphics heavy page, the graphics' ghosts live on. It's not a major issue but will stick in some users' eyes.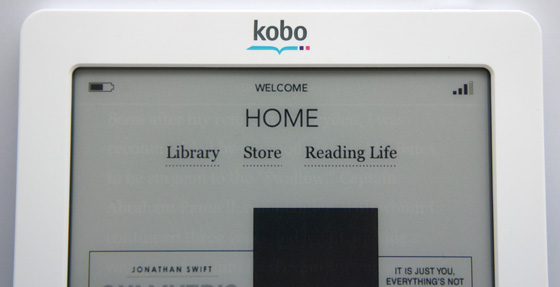 The visible ghosting is akin to newsprint artefacts
The touchscreen is easy to use, tapping or stroking the right hand side of the screen takes you on a page, left takes you back. Simple, and as effective as the Kindle. The only downside is that whenever I picked it up it was partly by the screen so the page turned or a book loaded. This was annoying but only mildly. The touchscreen keyboard is, as mentioned, not fast, but that applies to the whole machine.
Launching a title for the first time seems to take longer than if you're mid-book. Similarly, if you've been reading the book on your computer or iPad through the Kobo app, it takes a few seconds to update to the latest bookmark. But the crucial thing in an e-book reader is how fast it turns the pages and here the Kobo never keeps you waiting.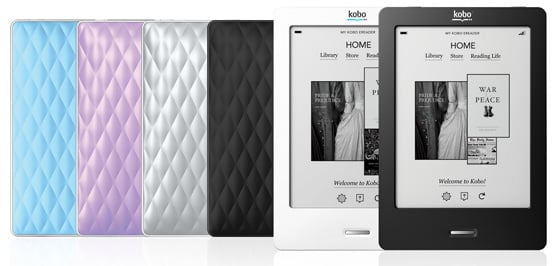 A colour scheme to suit a variety of tastes
Much of the technology is the same as on Amazon's beauty: size and weight are similar, internal memory (2GB) is identical, though the Kindle holds 1,400 books, the Kobo only 1,000. Mind you, the Kobo also has expandable storage. If you put a 32GB microSD card into the device you can carry 30,000 books. Though, honestly, do you want to?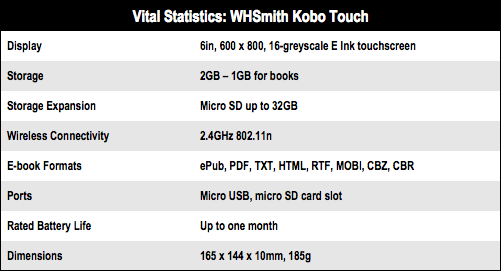 Sponsored: Ransomware has gone nuclear