Dell spills beans on biz app rejig after software gobble fest
Texan titan also polishes control-freak appliance KACE
Software wannabe Dell is rejiggering the divisions within its burgeoning Software Group to rationalize them in the wake of a number of acquisitions which have seen it gulp down a serious amount of software IP. The Round Rock firm has also launched an updated KACE management appliance for both PCs and servers.
Back in February, Dell tapped John Swainson, a former software bigwig at IBM and more recently the CEO at CA Technologies (formerly Computer Associates), to run a new Software Group and made no secret that it planned to build up the portfolio of applications it had already amassed through acquisitions.
Dell had already acquired Scalent for cloudy systems management, Boomi for cloudy application integration, and SecureWorks for security at that point. It then added AppAssure that same month for continuous data protection, and followed it up quickly with the acquisition of SonicWall for firewall and threat management; Wyse Technologies for thin client and virtualization management; Quest Software for a hodge-podge of systems, database, performance and access management tools; and Clerity and Make Technologies for mainframe and midrange legacy application modernization.
It's not the software business of Microsoft or Oracle or IBM, to be sure, but it hangs together better perhaps than what Hewlett-Packard has cobbled together.
Having brought these pieces of code together – some of which are currently sold as services, and others that are peddled as hardware appliances today, but perhaps will be sold as software appliances or cloudy services in the future – Dell needs to shift things around a bit and put engineering and sales teams together so they are not working at cross purposes. Saranya Babu, senior product marketing manager at Dell's new Client Systems Management division, spoke to El Reg about the reorg.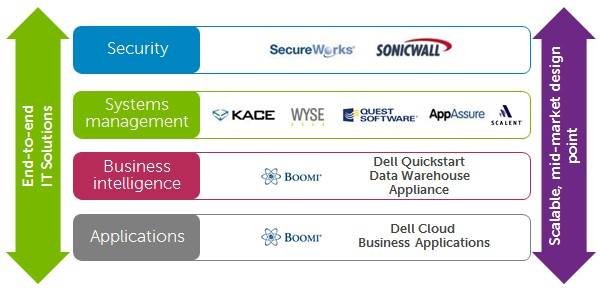 Rejiggering Dell's Software Group
Dell will have four primary software areas: security, systems management, business intelligence, and applications. The Systems Management division will be managed by Tom Kendra, and will include the KACE, Wyse, Quest, AppAssure, and Scalent products. And while KACE will continue on as a product brand, it will no longer be a separate division in its own right.
Most of KACE will be put into a Client Systems Management group under Rob Meinhardt (one of the original company founders), and that unit will mash up the KACE management appliance as it relates to clients plus pieces of Quest once that deal closes. KACE server management appliances will be mashed up with Dell's mobility management tools. "Our server focus is not going away," Babu explains.
But, it looks like client and server management could, in the long run, end up coming from different appliances with similar KACE code bases informed by various other tools in the Dell software box, including network and physical server management.
Kace in point
The one thing Dell doesn't want to do is screw up the KACE business. According to Babu, since Dell acquired KACE in February 2010, Dell has nearly quintupled the formerly independent company's revenues. In the last year, the KACE products doubled their sales and the company more than doubled the customer base to 6,000 companies worldwide.
Part of that expansion has come through adding more language support and geographic support, which KACE could not afford to do on its own, and thus now sales outside of the United States account for 30 per cent of sales instead of the 15 per cent of a year ago. The KACE products are supported by some 500 employees inside of Dell who work in engineering, marketing, and sales, and they are focused mainly at midrange shops that have complex management issues and tight budgets.
Dell is still peddling two difference KACE appliances, which are based on its own PowerEdge servers. The K1000 management appliance for discovery, asset management, software distribution, remote control, power management, security, and patching. The K2000 is a deployment appliance that does centralized operating system imaging, network installs, configuration management, and recovery when something goes wacky on a PC or a server that is under the rule of the KACE control freak.
With today's announcement, Dell is upgrading the software in the K1000 management appliance to Version 5.4, which has support for Microsoft's impending Windows 8 and just-announced Windows Server 2012 as well as Apple's Mac OS X "Mountain Lion" 10.8, SUSE Linux Enterprise Server 11 SP2, Red Hat Enterprise Linux 6, and Canonical Ubuntu Server 10.04 and 12.04. This is the first time that SLES, Ubuntu, and Mac OS are supported by the KACE appliances. And the Windows 8 support is only for the x86 version, since, according to Babu, Microsoft has not yet opened up the APIs for the ARM version, called Windows RT.
V5.4 of the KACE software has a new machine inventory API, which allows system admins who are working from devices and operating systems that are not supported by the appliance out of the box to craft scripts to generate XML files that describe the device to the KACE box and feed it information – so it can at least be monitored and managed.
The update also adds eight new languages, including Italian and Castilian Spanish. Dell is also pushing into 25 new countries with the KACE appliances, bringing the total up to 110.
The KACE V5.4 software will be installed on new PowerEdge R420 12G servers, and will be orderable on October 24, with shipments starting in early November. The software costs $8,900 for 100 nodes (be they PCs or servers), with a 20 per cent annual tech support fee. ®