The world smartphone usage total has passed the billion-unit point, the first time it has done so. It has taken 20 years, from the first appearance of the device in November 1992 to today.
Strategy Analytics, a market watcher, today said it reckons one in seven members of the world's population has owned a smartphone during Q3 2012, with the usage figure hitting 1.038 billion during that three-month period.
The first smartphone was IBM's Simon, a device that premiered in November 1992 at the now defunct Comdex Fall show but which didn't ship until 1994. Two years later, Nokia released the Nokia 9000 Communicator, a handset closer than the Simon to the devices we call smartphones today.
"Nokia remained a dominant force in smartphones for over a decade until the arrival of Apple's iconic iPhone in 2007. The iPhone revolutionised smartphone design and it catalysed industry growth," added SA's Neil Mawston. "By the third quarter of 2011, we estimate there were 708 million smartphones in use worldwide."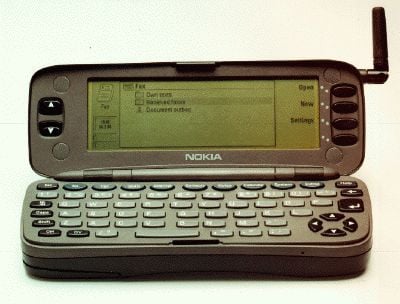 Nokia's 9000 Communicator: the first 'modern' smartphone
One year on, the figure has risen to over one billion. With six billion folk out there without a smartphone, there's plenty more to sell in the coming years. Mawston forecast the two billion mark will be reached in 2015, just three years from now. ®