Apple breaks ground on massive Oregon data center
Facebook, Google, Amazon neighbor to use 100% renewable energy
Apple has broken ground on a massive new data-center complex on a bluff overlooking the town of Prineville, Oregon, home to just over 9,000 souls, as well as to another data center owned and operated by social-networking megagiant Facebook.
Portland's The Oregonian reports that the first phase of the project will cost $68m, and involve constructing the first of two 338,000 square-foot buildings and two "data halls" inside of it. The plan is to eventually equip both buildings with 16 data halls.
The Oregonian notes that each of the two data-center buildings will be "twice the size of a typical Costco store." Considering that the size of an average Costco big-box retailer is said to be around 141,000 square feet (13,100m2), the newspaper is exhibiting customary American Northwest modesty.
Prineville is located 20 miles east of Redmond – no, not that Redmond, this Redmond – and is also home to a Facebook's first company-owned, custom-built data center, which broke ground in January 2010 and is currently being expanded.
Apple bought the 160-acre Prineville parcel in February of this year for $5.6m. Part of the deal that brought them to the high-desert town – aside from the dry air conducive to efficient cooling – was a 15-year property-tax break in exchange for Cupertino's promise to invest at least a quarter of a billion dollars in the facility and employ a minimum of 35 people.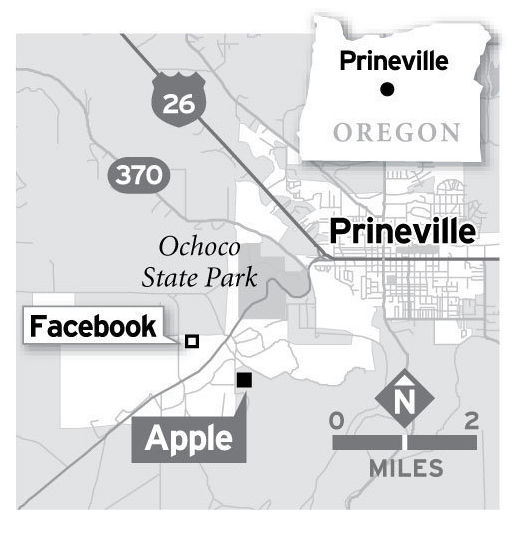 'Since we're neighbors, let's be friends' (source: Dan Aguayo/The Oregonian)
In addition, Apple has promised that the Prineville facility will run on "100 percent renewable energy" upon opening – an important promise, seeing as how energy needs are a growing concern in the environmentalist-friendly Northwest.
"At Prineville we have access to enough local renewable energy sources to completely meet the needs of the facility," the Cupertinians say on their website. For its part, Facebook says that it's improving its facility's energy efficiency, as well.
The data center business in Oregon is an increasingly large sector in the state's economy. Google has a data center in The Dalles that opened in 2006, Amazon is doubling-up its facility in Morrow County, and Rackspace recently purchased land near the Amazon facility, but hasn't yet finalized plans for building its own data center there.
Apple and Facebook are already data-center neighbors in North Carolina, where Apple built its $1bn data center in the town of Maiden. Facebook's $450m North Carolina site is located in that state's Rutherford County, about 40 miles as the crow flies from Apple's digs.
In Prineville, however, the two facilities will be much closer, almost next-door neighbors: they're right across State Highway 126 from one another. ®
Bootnote
Prineville is not only renowned for its Facebook, and now Apple, data centers; it's also where the $1.5bn, 430-store Les Schwab Tire Centers auto-parts giant was founded back in 1952. As far as The Reg can discern, Les and Charles are not related.