FalconStor brings in bankers after ELEVEN crummy quarters
Liable to be broken up for parts
---
Struggling data protection and virtualisation SW vendor FalconStor recorded more losses for its third 2012 quarter and has appointed Wells Fargo to look at "strategic alternatives" for the company; code for a possible break-up or outright sale.
Third quarter 2012 revenues were up 4 per cent sequentially at $17.1m, a 9 per cent decline on the third quarter a year ago. The net loss was $3.6m, better than the second quarter's $6.6m loss and the year-ago quarter's $5.4m loss but still a loss. So far this year FalconStor has lost $12.6m on revenues of $53m. It has made losses for the past 11 quarters and, frankly, there is little sign they will not continue despite the best efforts of CEO Jim McNiel and his team (background here).
It cannot go on and, no doubt, this lies behind the appointment of the Wells Fargo bank,
to assist the Company in exploring and evaluating strategic alternatives to maximise stockholder value. The Company intends to disclose developments regarding the process only when or if the Board has approved a specific transaction.
The investors are ready to bail out if they get a good offer. While this strategic advising takes place life goes on, and McNiel said this in the quarterly results release: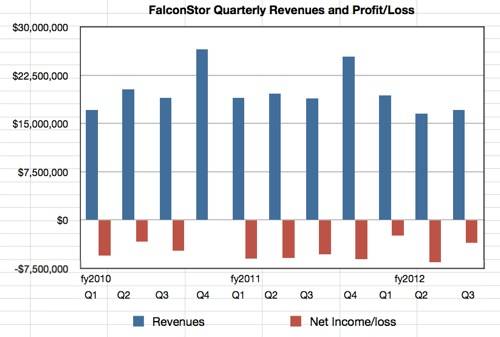 Click on image for larger view.
While our revenues fell short of our expectations, we are pleased that we were able to achieve sequential revenue growth during a difficult macro environment. The uncertainty surrounding the global marketplace continues to cause disruptions in our business, specifically with budget freezes, elongated sales cycles, or, in some cases, lost deals due to competitive pricing and sales strategies. Finally, we believe that the steps we took during the third quarter to reduce our operating expenses in response to the current environment have left us well-positioned to execute on our plan to invest in our existing and our new product initiatives.
The company closed the quarter with $25.8m in cash, cash equivalents, and marketable securities. That's enough to keep it going.
FalconStor shares rose $0.47 from $2.01 on 7 November to $2.48 on the Wells Fargo and quarterly results news. They were $3.80 in April this year and $13.90 in 2008. It seems glory days are long gone for some storage players. ®