This article is more than 1 year old
Ten four-bay NAS boxes
Made for sharing
Product Round-up The storage needs of home users are ever growing, such that the capacity of dual-layer DVDs appears miniscule, and backing up CD looks desperate. Many are now turning to network accessible storage systems that not only allow data storage in the home, but also provide HTTP, FTP and cloud services for when you're on the go. The NAS boxes on test here all provide this functionality in addition to the likes of BitTorrent clients and DLNA media streaming.
Some NAS devices on are only available unpopulated (no disks) while others are equipped with multiple high capacity drives – so don't be fooled by any extreme price differences here. The NAS boxes supplied empty were tested with four Seagate Barracuda ST3000DM001 3TB drives. For purposes of benchmarking with CrystalDiskMark, all units were configured in RAID 0, although most support a full complement of RAID levels.
Buffalo LinkStation Pro Quad

For a while now I've considered Buffalo's LinkStation product line as a decent, safe option that represents the baseline for what a good NAS box should offer. The LinkStation Pro Quad is no exception to this notion, with both sequential reads and writes sitting between 50-60MB/s. The LinkStation interface can seem a little sluggish at times, but it has plenty of features and good support for smartphone access to multimedia files.
The only real downside is that it is somewhat noisy. This is a minor inconvenience though, and certainly not a reason to pass on what is otherwise a very proficient NAS box situated at the entry level of the 4-bay world.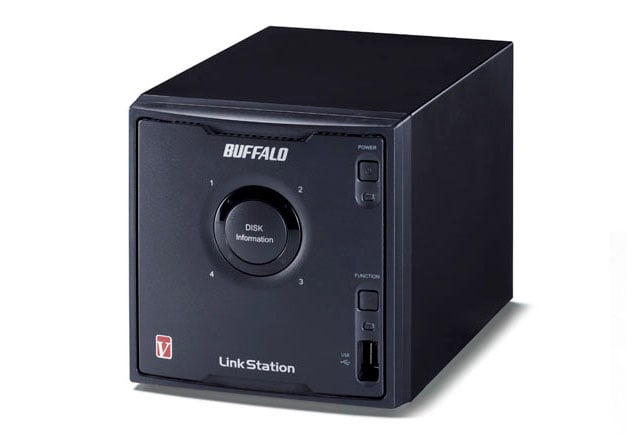 Reg Rating 70%
Price £430 (4TB), £730 (8TB), £910 (12TB)
More info Buffalo
Buffalo TeraStation Pro

While the LinkStation may be the bread and butter of NAS boxes, the TeraStation Pro Quad is up at the other end of the spectrum. With a 1.66GHz dual-core Intel Atom D510 CPU and 2GB of RAM, it is a capable computing platform in its own right. Performance options such as USB 3.0 and dual gigabit LAN ports come as standard at this level and all that oomph really shows in the benchmarks – Crystal DiskMark had this one writing at 100MB/s both randomly and sequentially.
If I were to point to any shortcomings with the TeraStation, then it has to be that it runs the same OS as found in the LinkStation. While it's not too bad an experience, I have to say that at this performance and price point, I'd expect it to be quite a bit slicker.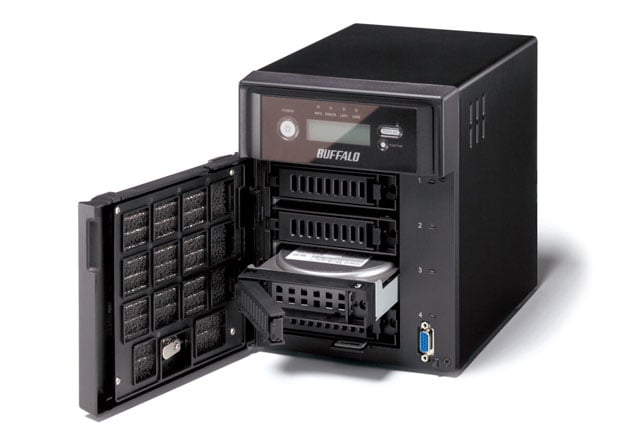 Reg Rating 80%
Price £1090 (4TB), £1360 (8TB)
More info Buffalo