Harley allows Apple to use 'Lightning' brand on 'playthings'
Bikers keep rights for lace, ribbons, flowers and bows
Apple has acquired the trademark "Lightning" from motorbike makers Harley Davidson, but only for use on a limited set of goods and services, a European trademark filing has revealed. The financial terms of the deal were not disclosed.
Apple was granted two European registrations for the "Lightning" trademark last week. The legendary motorbike brand only partially transferred the trademark to Apple, which means it could use the Lightning name in the future. The trademark applications are filed under numbers 011399821 and 011399862.
Cupertino is using the name for its Lightning connector, a super-fast data and power link introduced in September for the latest iPhone, iPads and iPods, replacing the usual 30-pin connector.
Apple's first registration - trademark number 011399821 - covers eyeglasses, goggles, wiring, voltage regulators, audio and video equipment, computer software and other gear. Interesting that motorcycle electrical parts are included in this - is Apple thinking of making iPod docks for hogs?
The second registration covers the use of the word Lightning for "goods or playthings", ranging from lottery tickets to er, rocking horses... and fishing rods and tackle, presumably for the massive fanboi flyfisher market segment.
Apple CAN'T use it for artificial flowers, shoe buckles or mittens. Here's a list of things that Apple can't market under the name Lightning - as Harley Davidson still owns the rights: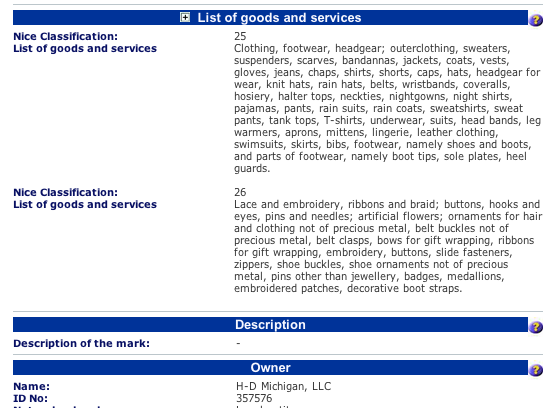 Harley Davidson's lightning trademark, screengrab European trademarks office
Harley Davidson's intellectual property arm is HD Michigan, which is listed on the trademark.
From the trademark history, it looks like Harley has fought off companies in the past who wanted to use "Lightning" for computer and audio products before, saying it would cause brand confusion.
But since Harley hasn't managed to slap the name on a bike yet, it must have reckoned it might as well cash in while it can. ®