HP maintains seat atop wheezing, spavined PC market
Windows 8 whip fails to get weary donkey galloping
---
Hewlett-Packard has stayed at the top of the PC industry, fending off competition from Lenovo to remain the biggest PC vendor in the world with 16.2 percent market share. But the industry as a whole is shrinking, and new stats from research firm Gartner confirm the gloomy prognosis from IHS last week.
Dell performed badly, with global market share dipping from 12.2 percent to 10.2 percent in the last year - a slump in overall shipments of 20.9 percent. Chinese giant Lenovo made ground, growing sales by 8.2 percent and overleaping Dell to take second place for Q4.
Apple doesn't figure in the top five globally, or in Europe and the Middle East, but clocks in at third in the US, with a 12.3 percent market share of PCs sold there. That's a slight increase from the same period a year ago - just over 5 percent.
Don't get the champagne out yet Meg
But though HP is still top of the pile, the picture isn't a reassuring one for Meg Whitman. Or - Lenovo aside - for anyone else in the PC game. The market is shrinking, it appears that people are buying tablets instead of replacing their PCs and that lower end netbooks are slowly dying out as a form factor.
Globally shipments in Q4 2012 were 4.9 percent down in total compared to the same three months in 2011. In the year as a whole Europe, the Middle East and Africa saw a big slump with shipments to that area down 9.4 percent compared to the same time in 2011.
One bright spot for the vendors is that it's the high priced, higher spec'ed PCs that are in demand. Simple email and browsing tasks are now being done on tablets, phablets or phones so when customers do buy PCs, they tend to buy more expensive PCs with more processing muscle for heavier tasks. That should mean a little more cash trickling in.
Tablets are eating out the PC market, Mikako Kitagawa, principal analyst at Gartner explained:
Whereas as once we imagined a world in which individual users would have both a PC and a tablet as personal devices, we increasingly suspect that most individuals will shift consumption activity to a personal tablet, and perform creative and administrative tasks on a shared PC.
Windows 8? What, we didn't even notice it
In a damning indictment of Microsoft's latest operating system, Gartner analysts claimed that the launch of the new OS had had next to no impact on sales of Personal Computers.
"The PC market continues to face many headwinds," said Ranjit Atwal, research director at Gartner.
The launch of Windows 8 had no impact on PC demand, especially as Ultramobile products were both limited in supply, as well as being priced too high.
Though they did suggest that the arrival of more adventurous, glamorous devices that incorporated Windows 8, making use of its touch capabilities, would spark new interest in the system. All-in-one detachable tablet gadgets seemed to be doing reasonably well.
Global stats below, fuller detail on Gartner's preliminary results for PC sales in Q4 2012 here.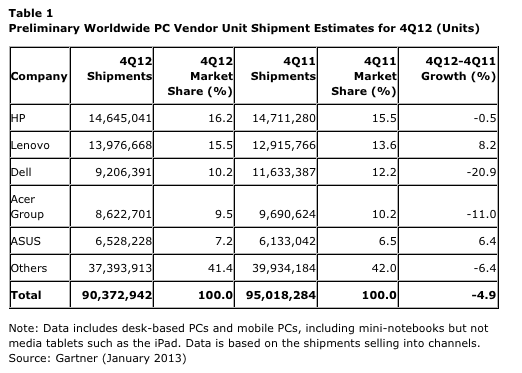 ®