This article is more than 1 year old
The official iPhone actually runs Android - in Brazil
Apple left hurting by painful Brazilian procedure
Apple has lost the rights to the trademark "iPhone" in Brazil to a local manufacturer which makes an Android phone called the iPhone NEO. Yesterday the Brazilian Trademark and Patents Office rejected Apple's claims to the trademark "iPhone" in the category of telecoms and the category of electronic devices.
"Registration rejected due to legal conventions" reads the notice on Apple's trademark application number 829213910, which requests use of "iPhone" in class 38 for Telecommunications and was filed in November 2007.
Brazilian electronics maker Gradiente applied for the trademark "iPhone" in 2000, reports the Wall Street Journal, and was granted the rights to the trademark in 2008. However to claim the mark the company must make commercial use of it within a five year window. It took Gradiente till December 2012 to release the IPHONE Neo One, an Android handset, confirming their claim and triggering the rejection of Apple's application.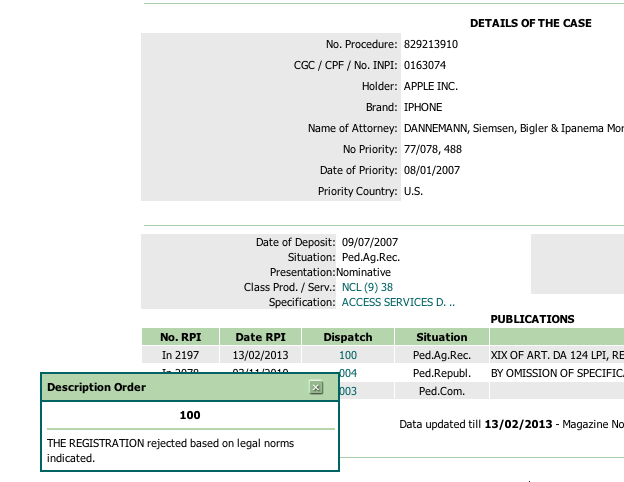 A screengrab of the rejected Apple Trademark Application for iPhone in Class 38
Apple is contesting the decision on the basis that Gradiente failed to make use of its trademark within the five year window, states the Journal.
Apple was granted the Brazilian trademark application for "iPhone" in four other categories including: Class 39, computer services; Class 41, the provision of entertainment services; Class 35 retail stores and in Class 42, computers.
Apple was refused the rights to "iPhone" in Class 38 telecoms (application number 829213910) and in Class 9 for electronic and scientific devices (application number 829272747).
Apple is in a similar tussle in Mexico where it recently lost a trademark infringement lawsuit to a Telco with a trademark on iFone. ®