This article is more than 1 year old
Dev preview of Ubuntu for phones touching down February 21
Get it for your Galaxy Nexus or Nexus 4
Canonical, the company behind the Ubuntu Linux distribution, has confirmed that the initial testing version of Ubuntu for phones, dubbed the Touch Developer Preview, will be available on February 21, with rolling updates to be released thereafter.
Canonical founder Mark Shuttleworth first mentioned a February release for the Developer Preview earlier this month in an interview with The Wall Street Journal. Friday's announcement pins the exact date down to next Thursday, in addition to filling in a few more details.
Most notably, Canonical's blog post reveals that the Touch Developer Preview will be available for both of Google's most recent flagship Nexus handsets: the Galaxy Nexus by Samsung and the LG-built Nexus 4. Previously, Shuttleworth had only mentioned the Galaxy Nexus as a target device.
Mind you, the inclusion of the Nexus 4 broadens the reach of the platform only slightly, at least for now. Google wasn't able to keep up with demand for the handset when it went on sale: the device sold out within minutes of its launch.
Simultaneous with the release of the Touch Developer Preview images, Canonical will also make available tools for managing the process of flashing the OS to devices, which users will be able to download from the Ubuntu archives.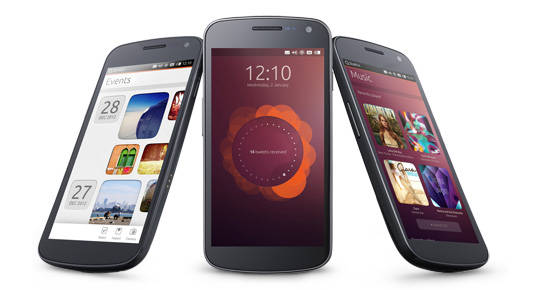 The Ubuntu Touch Developer Preview is almost here ... if you're feeling brave
If you do want to try out this bleeding-edge version of Ubuntu on your phone, however, you had better be an Ubuntu user already. In an email to The Reg, Canonical rep Sian Aherne confirmed that these initial flashing tools, at least, will run on Ubuntu only. Aherne gave no word on whether tools for OS X or Windows will be made available, nor even whether the tools will be published in a form that is suitable for deployment on other variants of Linux (such as Debian).
Once installed, the Touch Developer Preview will include a daily update mechanism that will allow users to automatically keep up with the latest progress on the OS.
If all goes according to plan, Ubuntu 13.10 – the next major version of the OS, due in October – will include "a complete entry-level smartphone experience." Precisely what that means is open to speculation, but Shuttleworth earlier told the WSJ that the first devices running Ubuntu would also be available to customers in the October timeframe.
Canonical says the long-term goal is for Ubuntu to support multiple types of devices, where the same Ubuntu code will deliver a mobile, tablet, desktop, or TV experience, depending on where it is installed or docked.
"Our platform supports a wide range of screen sizes and resolutions. Developers who have experience bringing up phone environments will find it relatively easy to port Ubuntu to current handsets," said Canonical's Pat McGowan, who leads the smartphone integration effort. "We look forward to adding support for additional devices for everyday testing and experimentation."
Canonical is hoping for community support for those efforts, too. One of the goals of the Touch Developer Preview is to give developers access to the OS code, so that they can port it to new devices.
In the meantime, the other goal of the February 21 release is to encourage developers to start building apps for the platform. Because Ubuntu for phones is a full Ubuntu distribution, developers can use a variety of tools to create their apps, and those written using HTML5 can run alongside ones built as native binaries.
To help developers get up and running, Canonical has made available a Preview SDK that can be downloaded now, as well as an App Design Guide to help ensure that mobile apps for Ubuntu have a consistent UI look and feel.
Further information and installation instructions will be made available at this location on February 21, once the Touch Developer Preview images are published.
On the other hand, enthusiasts who would like to try out Ubuntu on their phones but would rather have someone else handle the tricky details will have their chance at the Mobile World Congress in Barcelona, taking place February 25–28. Canonical team members will be flashing phones at the Ubuntu booth: number 81D30, App Planet Hall 8.1. ®