Dell and pals pop $51m into all-flash array upstart's wallet
Healthy chunk o' change for Skyera's B-round
---
While Dell the man is busying himself with taking Dell the company private, Dell Ventures has taken the lead in a $51.6m second funding round for all-flash array startup Skyera.
Dell alone - of the major systems and storage vendors - has no all-flash array strategy, at least not a public one. In November last year its storage business general manager, Darren Thomas, now departed, said he foresaw an all-flash array in Dell's storage product set - saying it was "baked in our thinking".
Skyera is an all-flash array startup founded by ex-SandForce guys who sold their flash controller company to LSI. Now they're in the storage startup racket again with Skyera.
The money has been provided by Dell Ventures and "other strategic investors" who are not named, suggesting they are not traditional venture capital outfits like Lightspeed. Skyera says it will use the cash to build 19/20nm process geometry NAND into its skyHawk arrays and drive their "broader adoption." It is aiming for a system price of less than $3/GB and an effective price, after deduplication and compression, as low as $1/GB.
In August 2012 Skyera CEO and co-founder Rado Danilak said the company had a single strategic investor with the company mostly owned by its management.
It has so far raised:
Seed financing - $6m which we learned about in June 2012. Skyera was founded in July 2010.
Implied A-round - unknown amount
This B-round of $51.6m.
The A-round is implied by the latest $51.6m investment being called a B-Round. We know the company has had $57.6 million invested in it by outside investors. Let's hypothesise a $20m A-round and say total outside funding is $77.6m, which is serious money.
Marius Haas, Enterprise Solutions Group president at Dell, said: "Skyera offers innovative technology that is breaking new ground in enterprise solid-state storage systems, including controllers, memory and software. Dell continues to expand its growing enterprise systems portfolio to help our customers do more. We are focused on changing the economics of storage and other systems for our customers by bringing high-end enterprise features to the broad mid-market and solving enterprise problems at a mid-range price point."
What does this marketing guffery mean? It implies that Dell may or will add Skyera's skyHawk arrays to its Fluid Data branded storage portfolio without actually committing that it will happen. It also pretty strongly hints that Dell is focused on the mid-range enterprise market.
Jim Lussier, Dell Ventures MD, said: "We see solid-state technology as a game changer and one of several fertile areas for investment. The investment in Skyera is one example of how we are deploying our Fluid Data Storage Fund to target areas critical to the evolution of storage, and how our venture." Is the term "Fluid Data Storage Fund" just more marketing guffery or does its use seriously mean Dell Ventures is investing in storage startups that can feed technology into Dell's storage product set?
Danilak himself said: "Dell and the investment syndicate bring deep knowledge of the storage sector that will be beneficial to Skyera as we take our next steps."
So what has Skyera got that excites Dell and this Dell Ventures-led syndicate so much? After all Dell could go after Violin, Pure Storage or Whiptail or another shipping all-flash array vendor. The current skyHawk box, with up to 44TB of MLC flash capacity and 1 million IOPS, is described here.
A Danilak presentation says 19/20nm flash costs less than $0.60/GB but it only lasts for a few thousand writes and enterprise use of the flaky stuff needs 100 times more write endurance. That can be achieved by optimising every layer of a flash array stack: the system level, RAID, the controller, and the flash.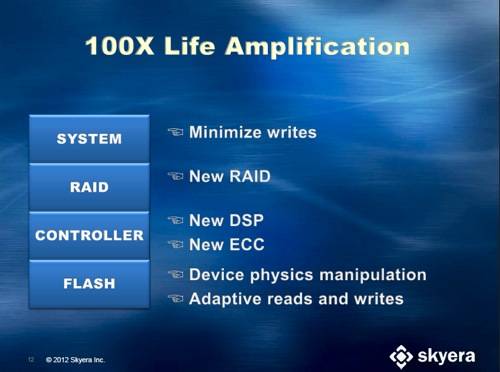 There is a hot spare storage node in skyHawk and the RAID system will tolerate simultaneous block failures. Danilak's pitch says a network switch bottleneck between a flash array and the servers it serves can be sorted by having direct server connections.
A Skyera Storage Switzerland (PDF) white paper discusses how this can be done by trunking multiple 1GbitE links and having a big 1GbitE switch built right into the appliance instead of instituting a10GbE or InfiniBand infrastructure to do the job": "It would … simplify design and implementation since the flash appliance would come with its own connectivity."
The paper says Skyera's system includes 40 1GbitE ports and 3 10GbitE ports: "Ports can be assigned to specific LUNs on the appliance and connecting server to achieve [a] private connection."
So, theoretically, Skyera's skyHawk should cost less because you could use the existing 1GbitE infrastructure you have and wouldn't need a new switch.
Incidentally, Skyera has hired Amit Bothra as its VP for NAS technologies - so file file access is coming to its arrays. Skyera's release said Bothra's appointment will "escalate Skyera's development of their next-generation distributed scale-out NAS solution for solid-state enterprise storage."
Danilak himself said: "Next-generation flash storage requires file systems that are specifically designed and optimised for flash itself."
Dell is convinced Skyera has disruptive technology under its belt which Dell can use to compete against the other all-flash array vendors. How exactly Dell will use that technology is unclear. It surely won't want to OEM future Skyera products if other suppliers are selling them, will it? ®