Storage-slinger: Sales down for 6th year running? Blame TAPE
Disk and software booming ... but not quite fast enough
---
Storage biz Quantum's position couldn't be further from that of rival CommVault. Revenues down? Yes. Both annually and sequentially? Yep. Losses deeper? Mmhmm. Annually and sequentially? Yes indeed.
It's the same old, same old for Jon Gacek's crew at Quantum, where unreeling tape revenues overtook slowly growing disk revenues. The company reported a dreadful fourth quarter and its sixth straight year of declining revenues. When is enough enough for people banging their head against a brick wall?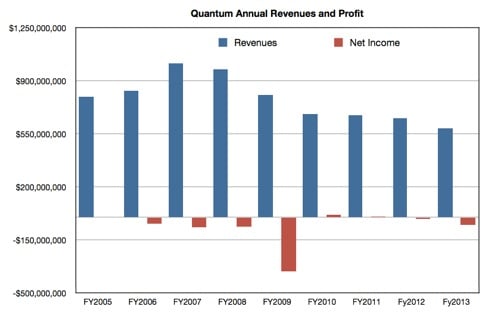 After six years of decline maybe a change in strategy? No? Oh, alright then.
For its fourth fiscal 2013 quarter, ended 31 March, Quantum's revenues were $140m, 13 per cent down annually and $20m less than in the previous quarter. The net loss was $14.5m. Losses were $11m a year ago and $8m a quarter ago. This is Quantum's fifth consecutive loss-making quarter.
The full fiscal 2013 revenue number was $588m, 10 per cent down on fiscal's 2012's $652.4m, and the net loss was $52m, a heart-stopping $43m more than losses in 2012.
Management said: "Although this was a challenging year for storage generally, and a particularly tough one for tape, we grew our disk systems and software revenue to a new high, maintained our market share leadership in tape, introduced a broad range of innovative new products and further improved our balance sheet."
In effect, it woz tape wot done it and disk wot didn't.
The spokesman added: "Our product portfolio is a key strength, and we will continue to be aggressive about utilising our technology assets to create products and solutions that are clearly differentiated and deliver superior value to customers in both data protection and big data management. This will include new deduplication, virtualisation, cloud, workflow and archive offerings."
In the fiscal 2013 year, Quantum reported record revenues of $152m from disk systems and software sales (including related services), an 11 per cent increase over fiscal 2012. Quantum attributes this to record revenue from both StorNext (file virtualisation) and midrange DXi (deduplicating backup array) sales.
The thing is, this still isn't enough.
Quantum expects to have $135m to $140m worth of sales next quarter - probably another decline, and probably leading to yet another quarter of losses. El Reg reckons Quantum is going to shrink some more before its relatively low-growth disk products will take up the tape slack. Still, if the board and investors are happy who are we to moan? ®