Fitbit Flex wristband: What to wear out when wearing yourself out
Google Glass, iWatch, activity monitor.... you're halfway to RoboCop
Going the distance
Even without this dubious encouragement, I found curiosity is what motivated me to keep wearing the Fitbit. Just how active am I during a weekday? Did all that walking around at home decorating going up and down a ladder and waving a paint roller around really equate to an 8km walk? By the way, the strap cleaned up quite well from paint flecks and the tracker survived numerous dousings in water.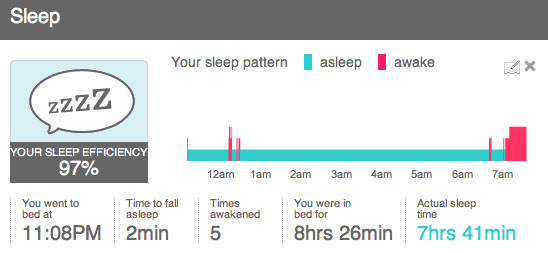 Savour your hours asleep
Admittedly, I soon lost interest in the food-logging. I wasn't enamoured with the idea of wearing it 24/7 to monitor sleep either, but as someone who is not averse to walking for several of hours at a stretch, the Fitbit did sustain my attention. Indeed, the Dashboard was soon forgotten and monitoring was done almost entirely from the iPhone app, which works most of the time. I tried syncing on the Tube with an iPhone 4S but as the app wants to relay the info to the online Dashboard too, this doesn't complete where there's no mobile or Wi-Fi signal, although you will get the stats locally on your handset.
Fitbit does allow you to link to a host of other popular apps from the Dashboard though – there are about 30 to choose from – so your data can be utilised in other fitness regimes such as the popular MyFitnessPal. Yet my biggest disappointment with the tracker was that strap, and for two reasons. The first is the clasp is a real bugger to align and get the metal buckle through the rubber slits as you pinch it into place. If you try and push them through against your flesh, you'll just bruise your arm. Putting it on should be a lot easier.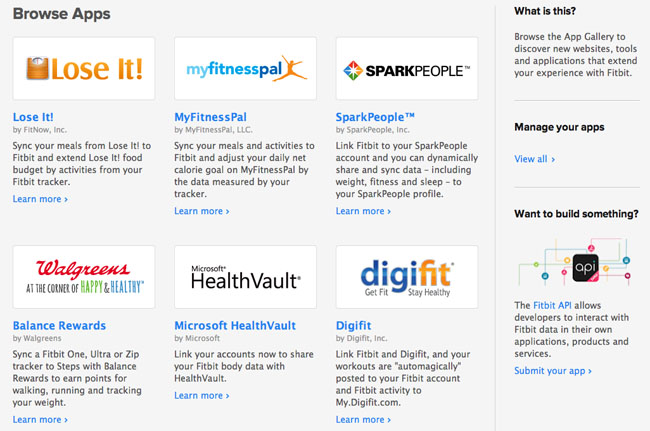 Just a few of the apps with which Fitbit can share its data, alternatively, build your own and send it in
The other issue with the strap was to do with my own mistaken expectations for a wearable fitness device. I'd seen heart rate on the Dashboard section, but this has be entered in manually - having taken your own readings by whatever means. The same goes for blood pressure and glucose too. So I was somewhat dismayed when I realised there was no pulse-monitoring function, as I would have been fascinated by the variations in heart rate throughout the course of the day. Alas, this level of sophistication is currently lacking on the majority of mainstream wearable tech.
The Reg Verdict
For those with serious health issues or figure-focused fitness fanatics, for £40 a year, the Fitbit premium service delivers some tidily presented stats based on your exercise and diet regimes, along with suggestions and training plans. However, if you want to get even more obsessive, using other devices – such as the Withings Blood Pressure Monitor and the new Pulse tracker or even curiosities such as the Zensorium Tinké – might come in handy to get a fuller picture.
Yet all this gadgetry comes at a cost and the Fitbit Flex isn't exactly a bargain at £80. Still, the range of logging features along with those colourful graphics does Fitbit some credit, if you need to benchmark your physical prowess. That said, the food listings really needs sorting out to reflect UK shopping, as this will go some way in taking the tedium out of the calorie-counting exercise. ®

Fitbit Flex wristband: What to wear out when wearing yourself out
Wireless activity and sleep wristband with a fully featured on-line stats dashboard along with iOS and Android apps for instant monitoring.