This article is more than 1 year old
LG G Flex: A new cheeky curvy mobe with a 'SELF-HEALING' bottom
You thought only Samsung could do bendy phondle? Think again
LG has announced a new slim yet curvy smartphone model: a six-inch phablet dubbed the LG G Flex.
The South Korean company popped out a statement in that nation's language to let us all know the G Flex is a well-rounded gadget running Android 4.2.2, packing a 720p OLED screen and with a "self-healing" rear that erases its own scratches. A Qualcomm Snapdragon 800 keeps things humming along with enough processor cycles to spare for a software layer that adapts graphics so they don't appear distorted. A 13-megapixel camera and 32GB of storage, er, round things out.
LG says the curved shape fits the human face better than straight phones, makes for better sound, gets somewhere near re-creating the experience of watching an IMAX movie and also fits better into one's back pocket. Because we all want to sit on our phones.
As we've previously opined, those arguments seem spurious. The Reg is unaware of just how many smartmobe owners are resentful about the need to buy a cover to enhance their devices' in-hand adhesion, but supposes the number is small. Just how easier handling becomes a selling point is anyone's guess.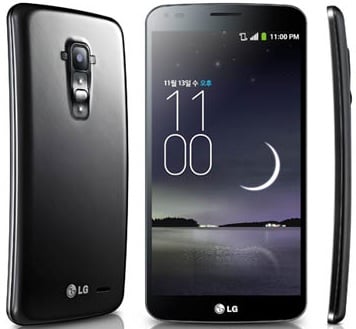 The LG G Flex in all its curvy glory
Samsung's already shown the world a curvy phone, so perhaps the G Flex is a me-too play to ensure fierce peninsular rivalries remain stalemated. Whatever LG's motives, it's following Samsung by only selling the phone in Korea for now. ®