This article is more than 1 year old
Anonymous hacktivists' Million Mask March protest hits London
'Remember who your enemies are' says protestor as 11 arrested
London cops made 11 arrests last night as thousands of supporters of the hacktivist group Anonymous led protests outside Buckingham Palace.
The Register had a vulture on the ground, watching as the group of about 1,000 masked "Anons" marched from Trafalgar Square to Parliament Square, before bursting through a police cordon and charging down the Mall.
Cops tried to kettle the marchers in Parliament Square, but were unsuccessful. There were then struggles between masked men and policemen as the protesters split off to lead a march on the Queen's London home.
The march was part of a global event called The Million Mask March, which saw protesters congregate in 400 cities in countries around the world including the US, Australia and Indonesia.
At the London event, campaigners in masks banged bongo drums, blasted out dubstep music and openly smoked cannabis in front of police. Some chanted support for a wide variety of causes. A group of women were dressed as badgers, clutching signs which said "Cull The Tories" in protest against ongoing plans to shoot large numbers of badgers in the hope of reducing TB amongst livestock.
Another marcher carried signs which said "Keep Calm, Buy Bitcoin" whilst one group clutched a placard which simply said: "No To Usary [sic], Yes To Cannabis. Shit Fuck Bastard."
Protesters launched fireworks at Buckingham Palace and Parliament, as well as lighting a bonfire on The Mall. Most were wearing the infamous Guy Fawkes mask which has become a globally recognised symbol of protest.
We saw one masked protester led away by cops after he cut down an Jamaican flag from a flagpole on Birdcage Walk, which he waved furiously while a man with dreadlocks sung reggae songs.
There were a number of minor scuffles, with protesters making a half-hearted attempt to push through the gates of Parliament. But as police began to shove back against the masked hordes, a man with a megaphone appeared shouting "peaceful protest, peaceful protest" and the ruckus stopped.
A man and a woman also tried to lie in front a police van, but were picked up and sent on their way.
On a Facebook page set up to publicise the protests, supporter said the marches were a "call for Anonymous, WikiLeaks, the Pirate Party, Occupy and Oath Keepers to defend humanity".
"Remember who your enemies are: billionaires who own banks and corporations who corrupt politicians who enslave the people in injustice," the site added.
One of the Anonymous protesters, who declined to give his name, said: "The government doesn't listen to us. Big business doesn't listen. We're here to protest against greed and call for a fairer world."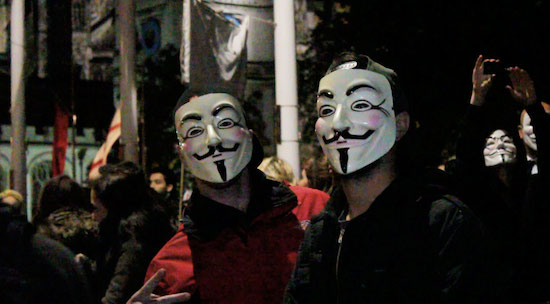 Another man, wearing a zombie mask, said: "The corporate world has gotten out of control. They don't need all that money."
So why the masks, we asked? "Well, I don't want my work for see me here," said one brave soul. "As well as that, the mask has become a symbol of protest and opposition."
Russell Brand was seen in the crowd and snapped by an Anonymous supporter as he lifted his mask to check his mobile phone. The comedian has become something of a lightning rod for adolescent pseudo-revolutionaries in recent times, after guest-editing The New Statesman and calling for the overthrow of the political system.
Russel Brand #MillionMaskMarch pic.twitter.com/wCA5AGQTVk

— W (@waleed_elhaddad) November 5, 2013
Brand himself, while evidently failing to grasp the concept of an anonymous protest, tweeted:
Whatever party they claim to represent in the day, at night they show their true colours and all go to the same party. #MillionMaskMarch

— Russell Brand (@rustyrockets) November 5, 2013
Not every passer-by supported the Anonymous activists. One cab driver, who was stuck in the middle of the protest at Parliament Square, told El Reg: "They don't seem to know what they're protesting about. They all seem to be here for different reasons."
Another pedestrian, in true British style, waved a can of beer in the air, toasted the badger ladies and light-heartedly shouted: "Free the squirrels!" ®