This article is more than 1 year old
REVEALED: How YOU PAY extra for iPHONES - even if you DON'T HAVE ONE
Everyone is paying for unsold 5Cs right now
Special Report Apple's secret deals with mobile operators are squeezing smaller companies out of the market and driving up costs even for those who don't use their products, according to Register sources across the industry.
"In my opinion Apple are in a grey area," one legal expert with first hand experience of the contracts told us.
The contracts that operators sign with Apple are confidential. But we spoke to several sources who have seen the terms first hand, across multiple markets. Apple's terms include rigid and non-negotiable purchase commitments which commit an operator to making a given number of sales of a forthcoming Apple handset, typically without even seeing the handset first, say our sources.
Apple does not give the operator a choice of refunds or returns.
"You simply have to buy them," a source familiar with operator deals told us. If an operator doesn't make the sales target then they must swallow the difference.
And the sums are staggering. Hints surfaced this summer, when industry analyst Craig Moffett warned Verizon investors of liabilities arising from the company failing to fulfill its purchase commitment with Apple. Moffett estimated that Verizon had committed to $23 billion worth of iPhone purchases, but had fallen short on sales, by around $12bn to $14bn.
Chilling effect
The rigid purchase commitments have two major impacts on the market. One is that mobile subscribers ultimately pay for the unsold iPhones - they pay an Apple tax whether or not they own an Apple product. The second is on the supply side: the impact is felt by smaller manufacturers when an operator realises it won't make the target - which is happening all over the industry today, as Apple's iPhone 5C fails to stir the market.
"There is a chilling effect on the market, and this is when it comes in, when the volumes aren't being met," an operators source told us. "Rival manufacturers are told to shove off."
Manufacturers are often reluctant to spell them out. But off the record, a source at one well-known brand said it was often seasonal and industry wide. This summer, as operators sought to meet Apple's targets for the iPhone 5C and with a new model anticipated for an autumn release, rivals saw the squeeze first hand.
"We found we couldn't get the release slots," the source said.
Operators have to deal with other unusual terms in the Apple deals. Sources suggest that Apple not only specifies how much subsidy an operator should provide - but also demands that no rival can exceed the iPhone subsidy.
"If you subsidised a Samsung Galaxy for €100 then you were obliged to subsidise Apple for at least €100 per iPhone. You would be penalised for breaching that - either by paying Apple or paying in the equivalent marketing."
While the Apple deals are unique, industry sources say, Samsung has attempted to copy some aspects.
"The deals for the Galaxy S4 were almost as restrictive as Apple's," one source said. "But Samsung has a range of phones, and operators had choices."
Samsung is insulated from the chilling effect by virtue of its scale: the giant Korean chaebol sells TVs, notebooks, monitors and tablets in its CE division alone, and so can more easily absorb a short-term squeeze in one business unit. The squeeze is most felt by new entrants like Jolla, which launched its first Sailfish OS phones this week, as well as venerable but smaller manufacturers like Motorola, Nokia and BlackBerry.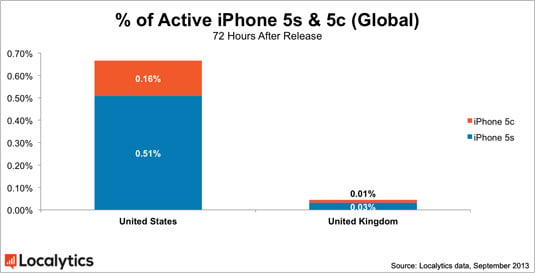 The cheaper 5C was off to a slow start in the UK and the US. Will operators pay the price?
The topic is highly contentious right now in the Christmas run-in, as operators scramble to fulfil their iPhone 5C purchase commitments. The cheaper 5C hasn't sold in anything like the numbers some anticipated, even the gold 5S is more popular, and reports suggest Apple is scaling back production.
The Register contacted Apple multiple times via multiple channels for comment on this story, but none was forthcoming. ®