The Shoreditch STARTUP SCENE is a load of TRIPE: And that's why it's GREAT
We want Chairman Flowers!
¡Bong! I was halfway through my third plate of organic artisan offal when the idea hit me, like a lightning bolt. In a flash I instantly blue-skyed the deal that will revolutionise British business. Here's how it happened.
It was a damp Movember Monday evening, and around me the scene resembled a 1920s misery memoir - as it does in Shoreditch and Hoxton every evening.
The drizzle soaked the tweeds of the gentlemen entrepreneurs, dampening their exotic Edwardian beards and elaborate taches - more resplendent and ornate than ever this year, it seemed. The squeak from a passing wrought-iron unicycle momentarily drowned out the soundtrack of Balkan dubstep.
What was I doing here, in a Tripe Popup?
I was here because I am a Taste Maker. One side of me you know well enough. That's the aesthete, a man who imports Puyehue water from Chile (I'm sorry, but I can't drink Corporation Pop) and who insists my local craft IPAs only use organic Cascades hops. All of this is well documented here at The Registry.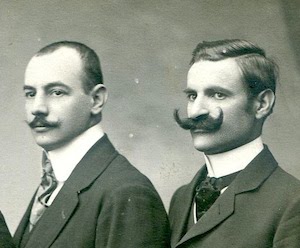 The excitement is palpable at this Movember meetup of social media gurus
But the taste maker must also look backwards to look forwards. One must grope around the corpse of the past, to take the pulse of the future. Hence my investment in East London's burgeoning Tripe Popups. Everywhere you look, barely edible food that the bourgeoise left behind generations ago can now be sold back to them at hugely inflated profit margins. Pies. Offal. Tripe. Jellied Eels. This was all a quest for the Real. All paid for by Trust Funds.
According to a scholarly paper forwarded to me by มาลัย (which means "Garland of Flowers" in Thai) this is called "Austerity Aesthetic" and it springs from what's called "Veg Patch Capitalism". Apparently this reveals "the self-contradictory yet self-perpetuating logic of capital as manifest in the neoliberal enterprise of state-led austerity."
I was missing มาลัย who has been something of a stranger at Bong Ventures HQ since she embarked on her Harvard MBA (MOOC edition). In fact, I had begun to suspect, from the image of a goat in human form that I glimpsed on her iPhone, that she has been sexting with Russell Brand.
So there I was, mulling the self-contradictory yet self-perpetuating logic of capital, when a young entrepreneur elbowed his way to the front of the popup bar.
"A pint of Flowers please," the young entrepreneur asked.
"I'm afraid the Reverend is unavailable," the barman replied, winking.
As the guffaws died down, I realised - that was it. That was the missing link.
The Methodist Minister and trailblazing ex-Co-Op chairman has been much maligned in recent days by Britain's gutter press. But he's not just a leader with similar appetites to my own. In many ways he's a model for us here in Shoreditch.
Then I realised that the Sharing Economy is really like one giant Co-Op. Everyone's co-operating, until it runs out of money, and then it has to be bailed out by a slighly larger co-op comprised of taxpayers.
But the Co-Op hadn't moved with the times. It had failed to relocate its HQ to Shoreditch, stubbornly remaining rooted somewhere unspeakable, up in clog land. So it had missed out on Gamification Consultancy. Missed out on Big Data. On offering Serendipity Services. And boutique SEO. Yet Shoreditch, with its tweeds and moustaches and abundance of artisanal Tripe and Onions, would make the Co-Op feel exactly at home. A synergistic relationship could follow. In addition the Co-Op has always been hopeless at making money - and nobody round here has a clue, either.
That's why I can announce that I have assembled a consortium of the brightest VCs and data scientists to buy out the entire Co-Operative movement, but only on one condition. The Reverend Flowers must lead it.
No Flowers - No deal. ®
Steve Bong (official title: Lord Bong of #businessmodel) is the founder of Bong Ventures, an early stage investor and incubator focussing on innovative new technology start-ups based in Shoreditch, London. When he's not helping rear the next generation of business models, Steve enjoys parties, foreign travel, extreme cuisine, Open Data and draws his inspiration from Ayn Rand and His Holiness the 14th Dalai Lama. He advised (then hired) No.10 policy guru Rohan Silva on mindfulness and innovation, Mark Zuckerberg on the Perfect IPO, the Republic of Kazakhstan on emergent social media strategies, LOCOG on brand enforcement, and imagineered the Olympic Opening Ceremony with Danny Boyle, Shoreditch's #guardian coffee coffee shop with Jemima Kiss, and was the social media consultant for Edward Snowden and Lady Thatcher's Funeral. A recent attempt to arm the Syrian rebels with iOS7 sadly failed, however. At the personal invitation of Kim Jong Un, he is a strategic consultant on the Nextification of North Korea. Steve wants to pivot the BBC into the 22nd Century, blue-skying its hugely successful Digital Media Initiative, and advises the UK Government on icon design and the new National Curriculum. He favours Small Government but Large Catapults, and wants more taxpayers engaging in Ambient Crowdsourcing.
Start planning for the post-profit era! Join Steve's COSMIC ECONOMICS MASTERCLASS @BongVentures on Twitter.