This article is more than 1 year old
Bring Your Own Disks: The Synology DS214 network storage box
Home NAS rig gets less expensive, less hassle-some
Review The Bring-Your-Own-Disks home server market might not be mainstream but it's pretty lively place, with giants like Cisco mixing with obscure Taiwanese box-shifters. And although these quiet, sub-£400 servers make a useful bit of small office kit, the abundance of media awash in family homes and shared digs give them another role - of bringing some order to chaos at home.
Home NAS has flourished after Microsoft decided to kneecap its very useful Home Server product, an option which gave new life to an old PC or laptop. Although Redmond never attempted to market this product very hard... if it all.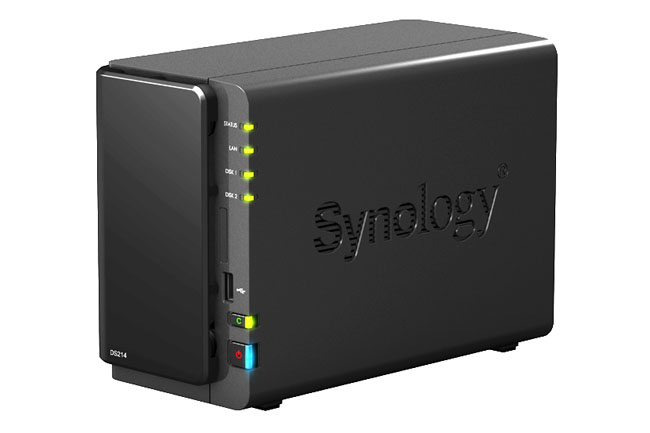 Synology's DS214:
The candidates in the budget home NAS market are embedded Linux boxes, and are usually sold without the disks. You're then invited to set up a RAID set and be a BOFH for an hour or two: adding users and turning on the bewildering range of features on offer, from basic media sharing and streaming to IP camera recording and, increasingly, many third-party packages.
Synology has deservedly carved out a leading role here against some stiff competition, thanks to a rich feature set, an easy-to-use GUI, and the support of a thriving community. Although it produces NAS enterprise kit, it boldly set out a small office/consumer proposition using lower cost Marvell ARM boards - which is what we have here, in the new DS214.
The DS214 is Synology's new two-drive budget model, setting a new floor for the entry price, at a shade over the £200 for a diskless two-drive unit. Budget in another £110 for two 1TB NAS-ready disks, or £175 for two 2TB units, and you'll still have change from £400. Western Digital now even markets NAS-ready, Red-brand 2.5-inch disks, a sign of the growing interest in the market.
But using ARM doesn't mean low performance. I found the DS214 compared very well against Synology's more powerful and professional DS712+, which was a $752 choice just 18 months ago. Fitted with 1GB of RAM, as a reference unit, the DS712+ does Ethernet link aggregation (bonding), providing your router can support it, but in single Ethernet mode the DS214 wrote and read faster than the DS712+. The DS214 uses a dual core, 1.1GHz Marvell ARM with 512MB of RAM.
Easy install
This year the budget end of Synology's also gets the "tool-less assembly" treatment. No screwdriver is required to install the hard drives and get under way, and it took under five minutes to power up the box.
Things take longer after that, the unit needs an internet connection to go out and find the OS image - DSM, DiskStation Manager - and it takes much longer to build your RAID set, although you can do other things on it in the mean time. The DS214 also allows hot-swapping, should one drive fail. This trickle of high end capabilities and features into cheap home gear is very welcome.
So what do you get? What's it all for? A budget NAS box is typically, if nothing else, a central backup point for a home or small office, with USB printer sharing and proper user accounts with proper permissions and quotas. I'm of the view that every home should have one.
The system will recognise an external photo folder, and has a dedicated Copy button on the front, so if you allow it, the box will suck up the photos automatically. The DS214 doesn't, like the DS213 Synology models, have an SD card slot, but the Copy Button is still there.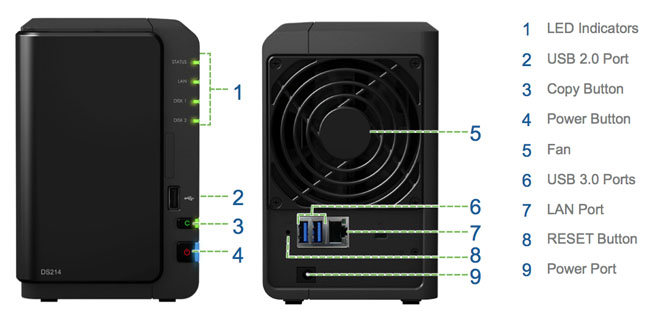 The DS214's ports
This budget option does have USB 3.0 ports – two of 'em – for the first time, although the sole USB port on the front of the unit is 2.0 speed.
A slew of apps for iOS and Android allow it to be used on mobile devices.
More advanced pro options such as iSCSI are also available in the budget boxes - where by a portion of the storage can be parcelled off and used to spoof a directly attached, natively formatted local drive. Up to 10 iSCSI LUNs (aka partitions) are supported in the DS214.
Synology has also long bundled MPEG streaming and photo viewing and a crude iTunes server. By crude, I mean advanced features like ratings aren't really supported - it simply streams to an iTunes client.