This article is more than 1 year old
Mobe operators, need to check your network? There's an app for that
Strap a phone-filled backpack on and go for an urban stroll
MWC 2014 US mobile network checking company Global Wireless Solutions says there is a gap between its traditional way of testing mobile coverage using vans driving around with $300k of testing kit in the back and crowd-sourced reports on quality of mobile network coverage.
The problem with using vans to check networks goes beyond cost. Vans can't go everywhere that people on foot can, such as into shopping centres and on board trains.
The crowd-sourced approach means you have no control over the device which records a problem, when it does so or exactly where it is. GPS might give you a reasonably accurate location but not (for example) which floor of a building someone is on. In addition, there is too much variability between devices.
GWS has produced an app which mobile network operators can use to check their coverage. This might be to work out where there are gaps in their coverage or capacity, or to see where they might safely lose a base station.
One of the driving forces behind EE and Three, and O2 and Vodafone joining forces on mobile towers could simply be for marketing information, whether for a network to see how well it's doing or how well its rivals are getting on. It's certainly a hot topic of discussion among Reg readers.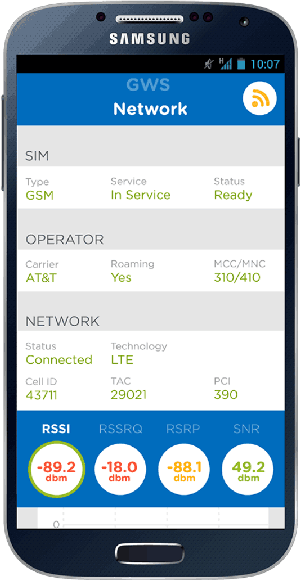 All data is sent back to GWS' server for later analysis
The GWS app runs under Android, in particular on the Galaxy S4. GWS' founder, Dr Paul Carter, accepts that the device imposes some limitations on the test. Some handsets are optimized to work on particular network infrastructure; indeed, Apple famously met with NSN to discuss how to rein in the flagrant abuse of network resources by early 3G iPhones.
But Carter says that these days other factors far outweigh any device-specific bias – and, of course, that bias also existed with dedicated testing hardware too. Besides, using a shop-spec handset is the closest you can get to the true customer experience. Not that all handsets of the same model are the same. With different frequency bands, operator-specific software loadouts and even processors there are over 100 models of Samsung Galaxy S4 on the market.
When testing multiple operators for the sake of comparison, GWS will use the operators' preferred device – and they don't have to root it for their software. Even an iPhone would yield the necessary radio information to be useful.
To test networks in urban environments GWS has built a couple of designs of backpack – which it is showing at Mobile World Congress. One uses traditional test equipment which gets layer 3 signal data while the second backpack uses nine Samsung Galaxy phones. This might not get down to the raw radio but still gives 150 different performance parameters. The data is then sent back to GWS' server and used to generate the report the customer wants.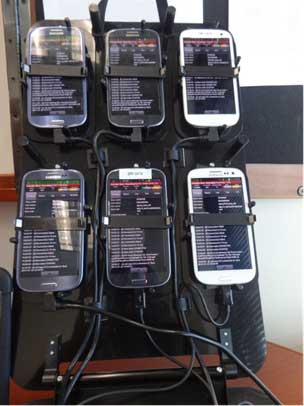 GWS' coverage testing backpack. Good luck carrying this around on the Tube...
The GWS app isn't intended for individuals to use, but Carter can see a scenario where customers are sent a copy by customer service to try and spot individual problems on the network.
I, however, would love to strap the backpack on and wander around Hampstead to be able to answer the question my friend Richard asked in The Spaniards: "Simon, just the person. You know about these things, which 4G network should I be on?" ®