Hobbyist or hardcore? StarTech dual-bay Thunderbolt enclosure
Build your own 760MB/s storage, anyone?
---
Stripe action
StarTech doesn't supply any storage set-up software, however, using the free Disk Utility on the Mac and Disk Management on Windows, configuring the two drives for RAID 0 (stripe) and RAID 1 (mirrored) is swift and easy to achieve. Yet the real performance boost shows itself in stripe mode which spreads the read/write transfer burdens across both drives simultaneously.
Stripe Mode Benchmark Results

AS SSD (left) and CrystalDiskMark (right) results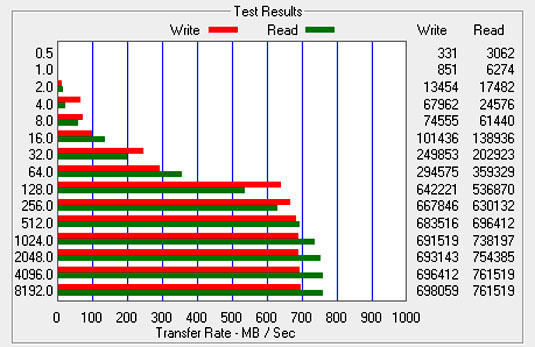 ATTO results show larger file sizes delivering impressive transfer rates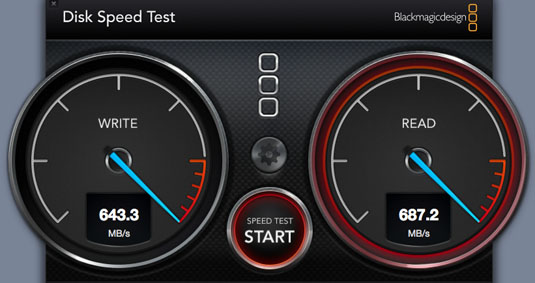 On the Mac, Disk Speed Test delivers similar results to AS SSD – thanks to reader stu 4 for the app suggestion
While stripe mode is a time-honoured option to boost performance in HDD arrays, on a pair of SSDs the transfer rate came close to 700MB/s on both the MacBook Pro (HFS+) and the HP ZBook 17 PC (NTFS), with the AS SSD reaching read speeds of over 760MB/s for large files. When a single SSD and HDD storage was used, the results were in line with expectations for the media.
Another use for the dual bay configuration is to clone drives. I used the restore feature in Apple Disk Utility to clone an OS X HDD installation to an SSD. The 320GB 7200RPM WD HDD had around 240GB of data to copy, which completed in just over about 70 minutes – a good deal less than the initial estimate of around 100 minutes – with the resulting OS clone on the SSD booting successfully over Thunderbolt too.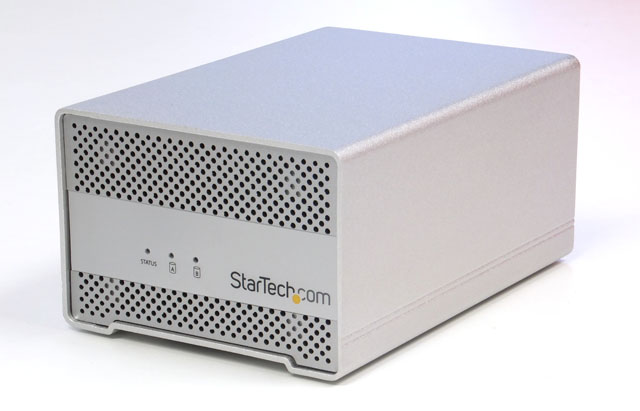 Convenient, capable yet costly
The Reg Verdict
All in all, the snappily named StarTech S252SMTB3 acquits itself well, Windows drivers notwithstanding. Swapping out drives is easy and daisy chaining to another Thunderbolt drive wasn't a problem either. There are a few grumbles though, as the fan can get a little whiny at times, but thankfully, wasn't constant and I'm sure many would prefer an enclosure that can accommodate 3.5in drives too. Also, it would be extremely useful to have an alternative USB 3.0 interface on board, especially given the biggest grumble of all, the price.
On the StarTech site, the enclosure sells for £295 which is very steep to say the least. Curiously, the site also states "Prices may be lower from resellers" with links to its partners. This ploy to prompt you to shop around is worth following up though, as you'll find it for £220 elsewhere. Is that cheap enough to be tempted given the populated alternatives? After all, WD has just announced its My Passport Pro portable dual drive with Thunderbolt, which costs £239 for the 2TB model. How easy this is to take apart and stuff in different drives I expect to find out very soon. ®

Hobbyist or hardcore? StarTech dual-bay Thunderbolt enclosure
Dual-drive, dual-Thunderbolt port enclosure for 2.5in storage.
Price:
£295 (StarTech.com), £220 (elsewhere) RRP