Samsung Galaxy Tab S 8.4: 4G Android tablet is easy to swallow
The best tablet in the world? Possibly
The fuller phablet
Built-in storage is a nothing-to-get-excited-about 16GB (or 12GB-and-a-bit after system lebensraum) but the microSD slot will support cards to 128GB in capacity. That means you can have more storage space than owners of the obscenely expensive £659 cellular iPad mini Retina. Decent 128GB cards can be had for under £80 these days, proving that Apple is really taking the proverbial with its storage costs.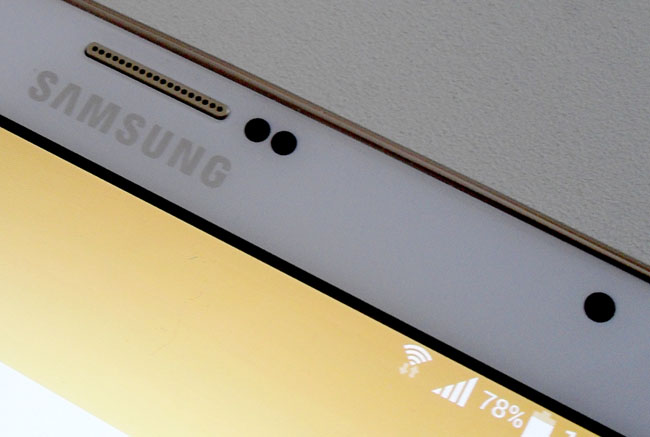 Webcam and earspeaker for phone use
Having that cellular radio means this Tab S 8.4 works perfectly well as a conventional smartphone complete with dialler and SMS client. Yes you'll look a bit of a spanner holding it to your head, although you can do this without problem if required. The lack of noise cancellation can be an issue, though. Still, the truly excellent stereo speakers make for one heck of a speakerphone.
Indeed, the Tab S 8.4 is equipped with what are arguably among the best speakers you'll find on any mobile device this side of the HTC M8 One.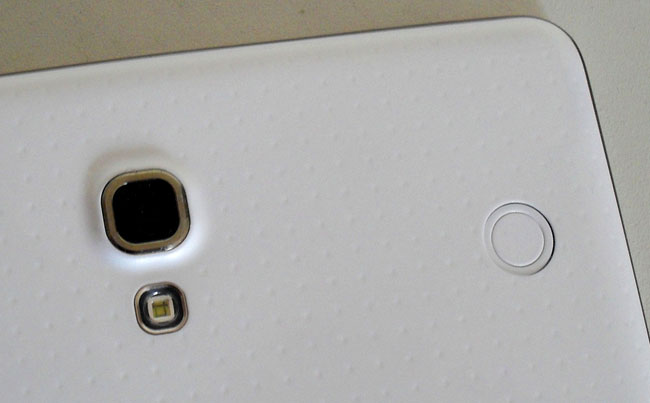 Flash and 8Mp camera and one of two "push clips" to snap on the Simple Cover accessory
The 8Mp f/2.4 camera is better than you'd expect and has a decent LED flash. Detail is high, noise is low and images showed good colour accuracy. The HDR mode is equally impressive. Video shot at the maximum 1080p and 30fps was crisp and consistent while upfront the 2.1Mp webcam does a very fine job.
Lastly, I'm going to award Samsung points for bundling a 2amp charger rather than a flaccid 1 or 1.5amp affair, but then I'm going to take them away for not fitting the Tab S 8.4 with the same USB 3.0 connector as the Galaxy S5. That seems like a missed opportunity – though you do get MHL media streaming, an IR transmitter, USB On-The-Go hosting and dual-band Wi-Fi by way of recompense.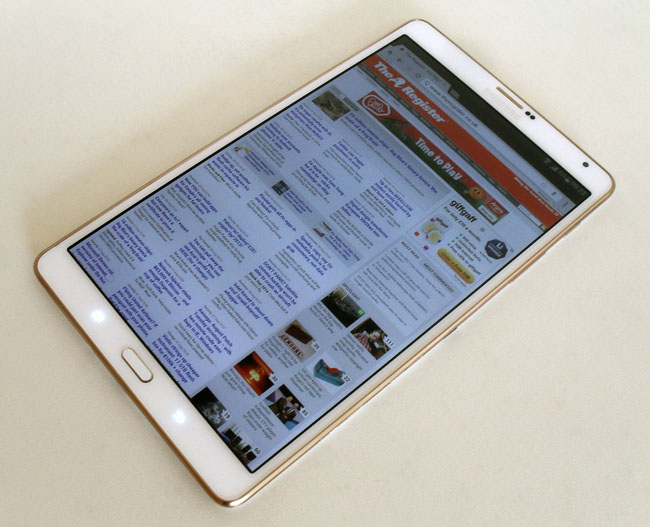 If you can live with the livery choices, it's pretty darned good
The Reg Verdict
Buy it direct from Samsung and the Galaxy Tab S 8.4 LTE will set you back £399 – or to put it another way, £20 less than the cheapest (16GB, no memory card) Wi-Fi and cellular iPad mini Retina. Pick one up from a cellco like 3, which supplied my review unit, and for £50 upfront and £33 a month you get the slab and 15GB of data each month.
In a nutshell then, the Tab S 8.4 is thin and light with decent battery life, a good camera, even better speakers, a cellphone and a very impressive display. The best tablet in the world? Pretty much. ®
Thanks to 3 for the loan of the review tablet.

Samsung Galaxy Tab S 8.4: 4G Android tablet is easy to swallow
Android tablet featuring an eight-core processor, 8.4-inch AMOLED screen with a 2560x1600-pixel resolution, 4G connectivity, microSD card expansion, MHL and USB OTG support