We give Panasonic's new 5-inch Toughpad phablets a kicking
Watch vid of 3m CRASH test
IFA 2014 Youtube Video
At IFA in Berlin yesterday, Panasonic put on its own spin of the ice bucket water challenge, but instead of dowsing charitable folk, it dunked its latest diminutive Toughpads. On show were the new rugged 5-inch HD (1280x720) FZ-E1 Windows 8.1 and FZ-X1 Android 4.2.2 tablets, both featuring data and voice capabilities.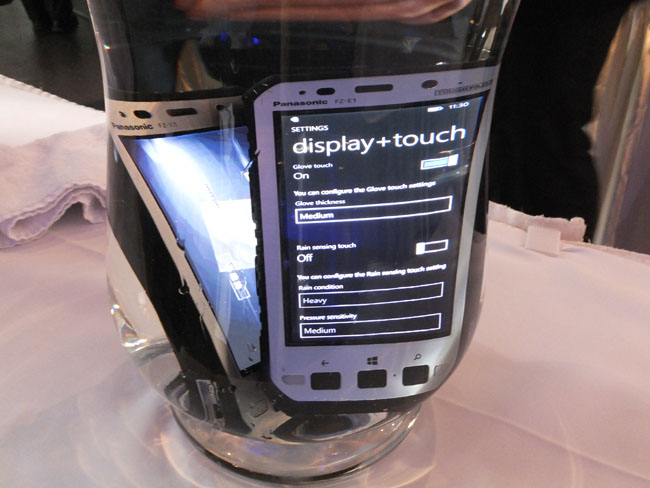 Water sports: FZ-EX1 and FZ-E1 Toughpads submerged
The rugged credentials include MIL-STD-810G and IP68 certification, so it can withstand 3m (9.8ft) drops to concrete (El Reg tested the FZ-E1 on granite and it survived) and will stay functional when submerged in water at a depth of 1.5m for up to 30 minutes. A Panasonic staffer said tests of several hours had gone by without a hitch.
Needless to say, it's fully sealed against dust and humidity and can operate in temperature ranges from -20°C to 60°C. To keep it cosy in extreme cold, there's even a battery warming element.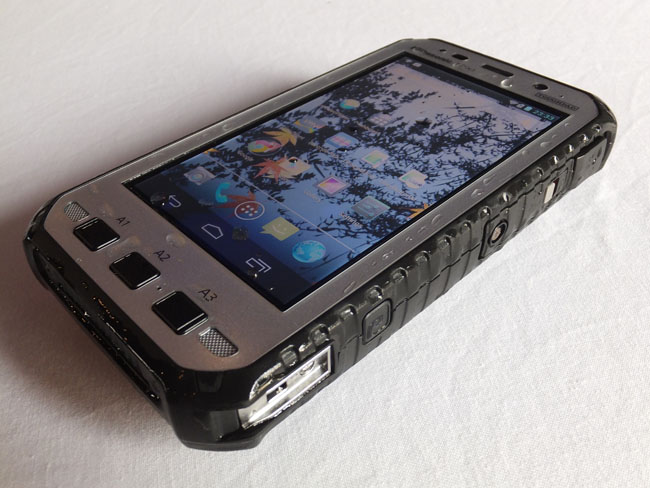 Panasonic FZ-X1 Toughpad – ruggedised Android after a soaking
Given the casing reinforcements, these Toughpads measure up at 165 x 87 x 31mm thick. Yet despite the chunky appearance – and packing a 6200mAh battery with a duration of 23 hours talk, 14 hours data and 1,000 hours on standby – in the hand, they don't feel overly weighty at all at 426g or 432g with a barcode reader.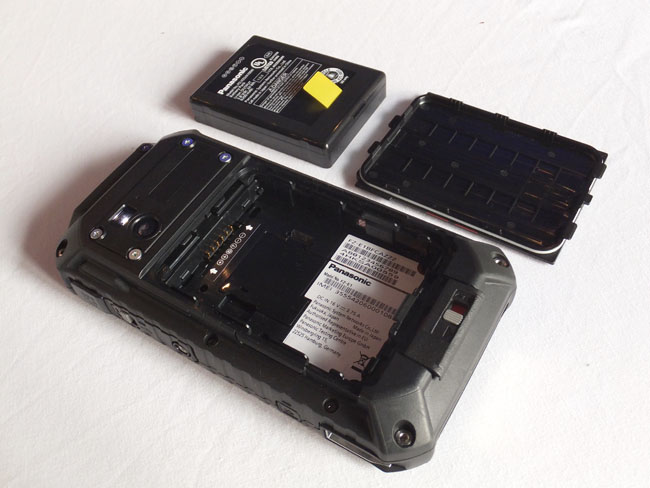 FZ-E1 battery bay and seals
Panasonic's thinking is to provide devices with familiar features but to meet exacting requirements in the field and for enterprise. So instead of all the fun stuff getting ripped out, you get an 8Mp snapper with flash and a 1.3Mp front facing camera too which will both prove their worth in the field or logistics.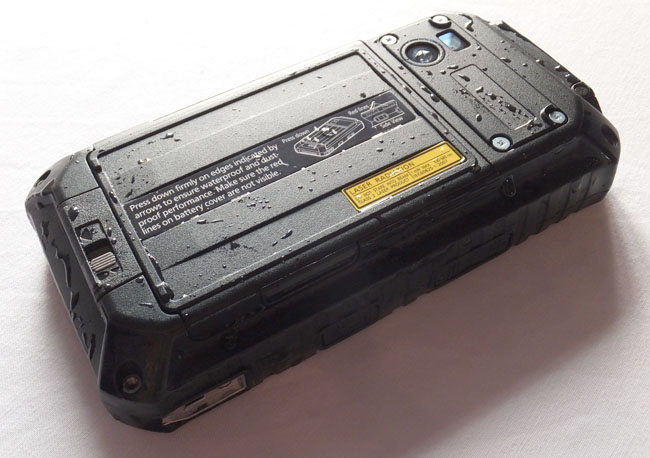 8Mp camera and flash on the back as standard on both models
Voice isn't just an afterthought either, as there are three mics on these devices to enable noise cancelling and there's a pretty robust sounding speaker too – with Panasonic suggesting military and police uses here, with its various cradles and numerous add-ons. Also integrated into these Toughpads is a high accuracy GPS that pinpoints locations to within 2m to 4m.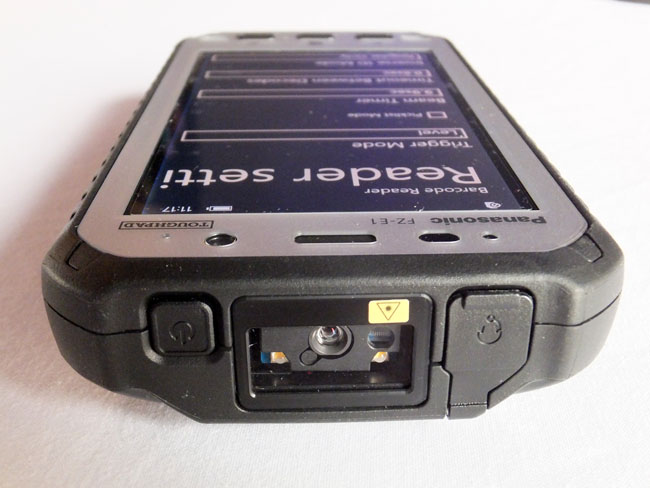 Panasonic FZ-E1 Toughpad with the optional barcode reader
Inside, the FZ-E1 Windows 8.1 Toughpad relies on a Qualcomm MSM8974AB 2.3 GHz Quad-core processor, whereas the FZ-X1 Android model gets away with a slightly slower Qualcomm APQ8064T 1.7GHz Quad-core chip. Both feature 2GB of RAM and 32GB of eMMC storage with microSD expansion for up to another 64GB.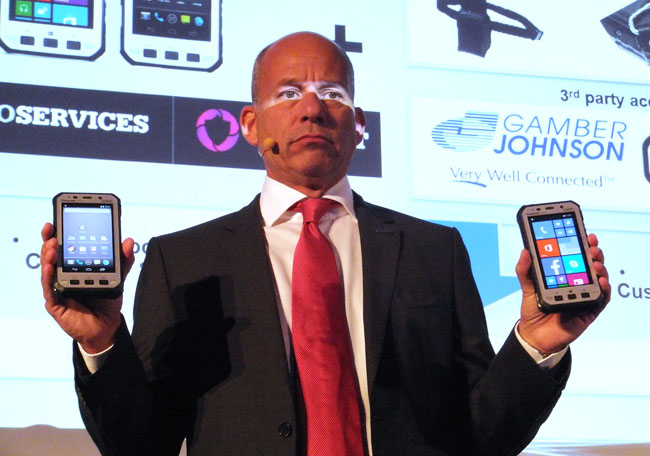 Adam Ant? No it's Mark Thorne MD, Panasonic Computer Products Europe
So what are you getting as a phablet here? As Microsoft's Senior Channel Exec, Goran Mataic, explained on the day, the Toughpad FZ-E1 is simply Windows Phone 8.1 plus industrial and enterprise features – security being top of the list. It all boils down to what Microsoft describes as Windows Embedded 8.1 Handheld OS. Yet beyond enterprise grade security and the Toughpad's rugged accessories, the main area things differ from the standard WinPho or Android OS is in the touchscreen response.