This article is more than 1 year old
Siri ... why is this semi headed RIGHT AT ME? Phone apps distracting as ever – new study
Hands-free tech still not so safe, claim researchers
Using your phone's cyber-slave by voice while focusing on the road? You're not as safe as you think, according to AAA.
The US auto club said it found apps such as Siri, and in-car personal assistant systems, are far more distracting than expected.
A study [PDF] AAA carried out with the University of Utah found that using voice commands to dial numbers, changing the music, and similar tasks while on the road, was more taxing on the mind of drivers than normal tasks, such as chatting to a passenger or listening to the radio.
"We already know that drivers can miss stop signs, pedestrians and other cars while using voice technologies because their minds are not fully focused on the road ahead," said AAA CEO Bob Darbelnet.
"We now understand that current shortcomings in these products, intended as safety features, may unintentionally cause greater levels of cognitive distraction."
Researchers in the study focused on how the electronic assistants were impacting cognitive functions such as reaction time and heart rate – factors other than visual attention that could hamper your ability to avoid an accident while driving.
They found that many of the systems, such as Apple's Siri or the embedded Chevrolet MyLink and Mercedes COMAND systems, required a high mental workload from the driver, essentially pulling attention away from the road and towards the assistant.
The results would indicate that the personal assistants, designed to reduce the risk of accidents from distracted drivers, are themselves far from perfect. Earlier studies have provided similar results, and researchers say that changes are needed in the design of the systems to be easier for drivers to use without impairing their ability to react on the road.
"Voice activated features may seem to be a natural development in vehicle safety that requires little justification. However, a large and growing body of literature cautions that auditory/vocal tasks may have unintended consequences that adversely affect traffic safety," the AAA research team said [PDF].
"What has become clear is that synthetic speech interactions can lead to surprisingly high levels of cognitive workload, well beyond that of natural conversation with another human."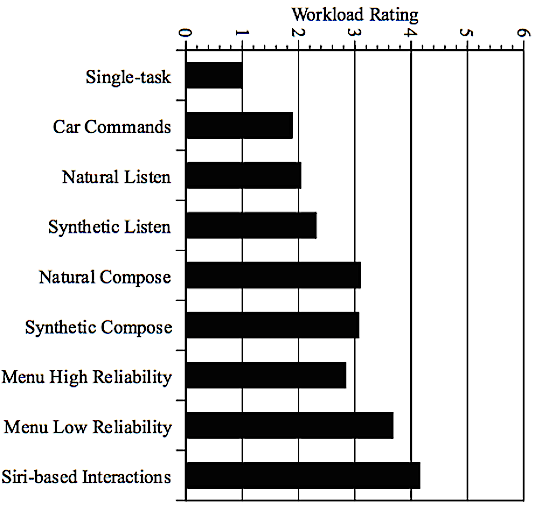 Taken from the report ... how test subjects rated tasks from 1 to 5, 5 being very distracting and 1 being not distracting. 'Single task' is simply driving around a road
The technology was tested by putting 45 people on public roads in Salt Lake City's suburbs (the researchers sitting alongside the drivers had an emergency brake, and a pace car ahead). The researchers asked the subjects to drive around while using voice commands to check messages, adjust climate control and compose texts, and using Siri. The tech was also tested with synthetic voices.
The subjects – who each had clean driving records – were later quizzed on how tough they found each of the tasks, from 1 to 5 where 1 is easy-peasy and 5 for very distracted; their heart rates were also measured while on the track. Siri scored a solid 4.15 in the mental workload results. ®