This article is more than 1 year old
Bendy, but hangs loose too: Lenovo Yoga Tablet 2 10-inch Android tab
Fit for purpose?
Making a stand
The clever thing about the Yoga 2's design is still the stand that folds out from around the battery bulge. This means you can set the Yoga up at a range of angles between near-vertical to near-flat. But in a stroke of genius, some bright spark at Lenovo has decided to drill a hole in the stand so you can now hang the thing off a hook or nail or such like.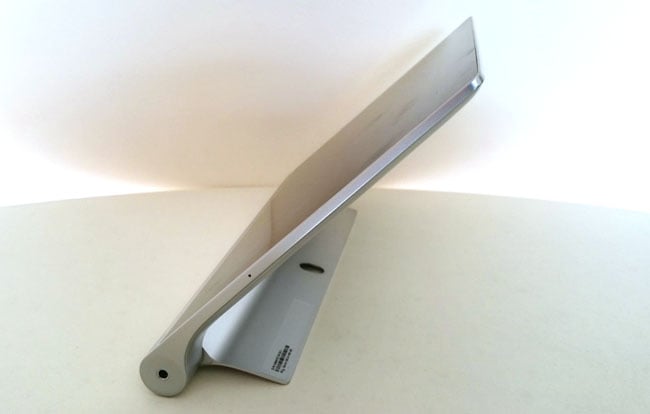 The stand is fairly stiff and so it stays upright at any angle
If I owned a Yoga 2 I'd be fixing hooks onto my kitchen cupboards, bathroom cabinet and into the walls to take advantage of this simple but effective modification.
Despite it looking the same to the untrained eye, the new Yoga is actually smaller at 255 x 183 x 7.2mm compared to the original at 261 x 180 x 8.1mm. It's a shade heavier at 619g but the 9g difference is nothing to get all bent out of shape about.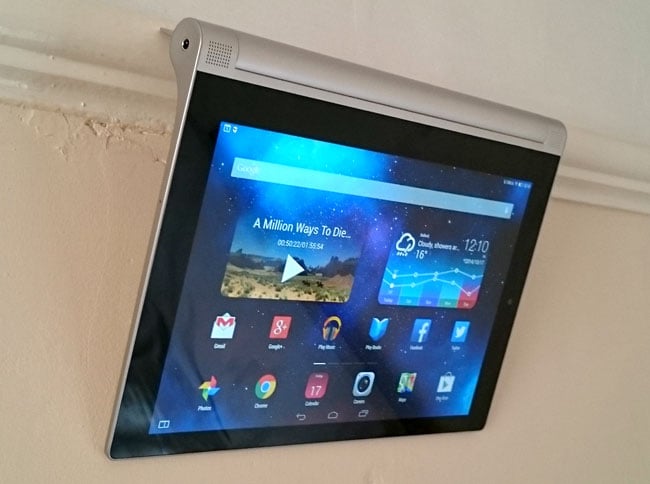 Just for hook ups...
The main camera has also been given a much needed shot in the arm. It now boasts an 8Mp rather than 5Mp sensor. More importantly it also has autofocus. The 1.6Mp webcam is the same as before but it really didn't need an upgrade.
Sitting on top of Android 4.4.2 is Lenovo's own launcher. Like Huawei's equivalent this does away with the app drawer so you end with all your shortcuts on one of your home screens à la iOS, although I'm not personally a big fan of this sort of thing.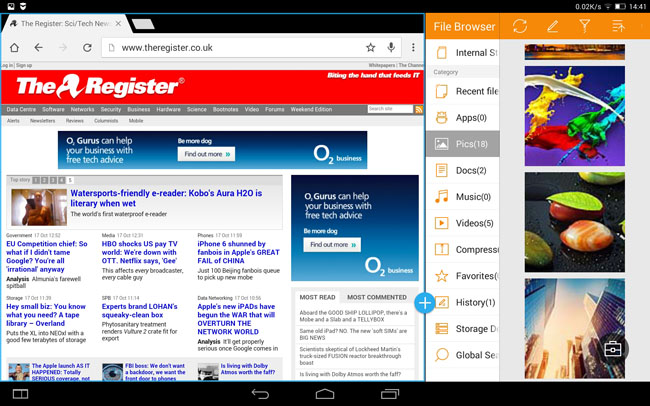 The split screen feature makes light work of multitasking
You get a a few other usability tweaks and a handy multi-window facility. The maximum number of apps that will work therein is only 5, fewer than a Samsung Galaxy tablet can handle.