This article is more than 1 year old
DRAM-firm-fattened flash bods double last year's profits
The lesson? Buy Japanese
Memory/flash chip maker Micron, fattened with Japanese DRAM firm Elpida, has recorded record revenues of $4.57bn.
Its first quarter of fiscal 2015 finished with a bang on December 4, 2014, delivering revenues 13 per cent higher than a year ago and eight per cent up on the fourth fiscal 2014 quarter.
Profits of a round billion dollars were vastly higher - 2.8 times - more than the year-ago quarter's $358m, although they were $150m less than the fourth fiscal 2014 quarter's $1.15bn, which included gains aggregating approximately $400m from increases in deferred tax assets from the ex-Elpida business units in Japan.
A $530m increase in revenues from a year ago resulted in a $642m increase in profits. What caused the profits hike?
Stifel Nicolaus MD Aaron Rakers listened to the results conference call and said Micron's enterprise SSD revenues (driven mostly by SATA drives) were at record levels and there was "record revenue in server DRAM related to continued strength in cloud and data analytics." DRAM prices were slightly higher in the quarter, and DDR4 adoption should help that trend.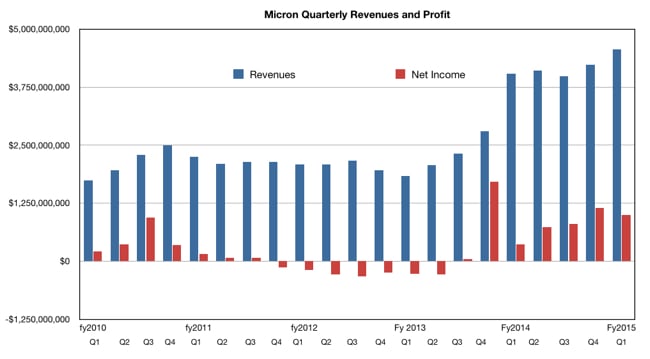 Micron results to its Q1 fy2015
All-in-all, Micron looks to be well-positioned for more growth.
In a general comment about the enterprise flash storage market, Rakers wrote: "We saw in 2014 the enterprise SSD space continue to take shape and quickly form a competitive landscape reflective of vertically integrated vendors (SanDisk, Micron, Intel, and Samsung) vs. non-vertically integrated (namely Western Digital / HGST and Seagate.)"
He poses the question of whether non-vertically integrated vendors have the "ability to maintain adequate NAND supply (we believe potentially leading Seagate to develop a strategic relationship / JV partnership)."
WD/HGST could partner more with Intel and Seagate might get closer still to Samsung. ®