This article is more than 1 year old
In Barcelona, no one can hear you scream ... HTC, Valve unleash Giger-inspired VR headgear
It doesn't look weird at all. No, really
MWC 2015 HTC has followed in the footsteps of Facebook-owned Oculus and Microsoft with its own VR headset.
It's making the unit, dubbed Vive, in partnership with Valve, and claimed it would be in punters' hands by the end of the year.
HTC was coy showing it off at Mobile World Congress in Barcelona today: El Reg didn't even get to try on a non-working unit, nor was there a stream of what it might look like from inside.
(Microsoft was rather more forthcoming when it announced the HoloLens earlier this year. See here and here. While Google's (literal) low-fi cardboard VR unit is widely believed to be an after hours prank.)
All HTC could divulge is that the Vive will stream at 90fps – anything less induces nausea – and is packed with 70 sensors. It's still a hefty proposition, as the below photo demonstrates.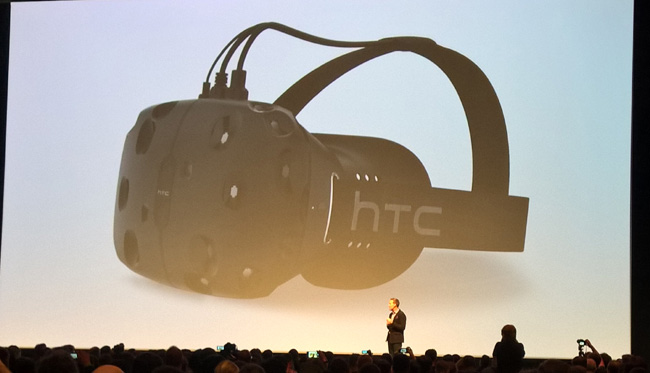 It's something HR Giger – of Alien fame – could have designed, making a virtue of the components.
HTC gave some clues to its thinking by listing Google, HBO, Lionsgate and the National Palace Museum as partners. Also enlisted are various games companies. So perhaps as you sit in your driverless car, you can recreate the experience of what people used to call "driving" … in 3D.
Developers should be able to get their hands on one later this spring, the company promised.
As for HTC's strategy, perhaps it sees a vacancy where Sony is – making ground-breaking consumer electronics. But then Sony isn't really Sony as much as it used to be. The Japanese giant is giving up almost everything except making movies, games hardware and display technology, with TV and audio already chucked overboard.
The impact on the VR market is hard to guess. But we cannot help remembering Ivor Cutler's early version of Virtual Reality – for families too poor to go to the seaside, all you need is some salt and some spittle.
And some imagination. ®